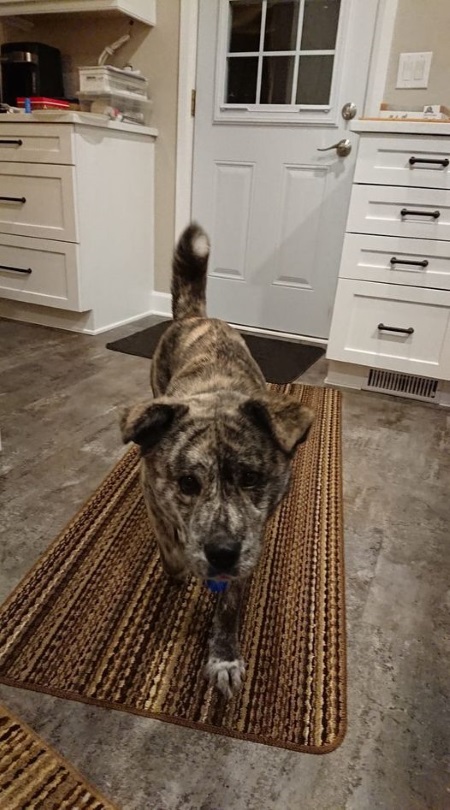 Gabby
Gaby is a Korean Jindo mix, spayed female, shots up to date and she has been Heartworm checked. She is approximately 18 months old.
She loves to play with other dogs and does zoomies at the dog park. She is starting to be interested in rabbits and squirrels.
Gaby is fearful of everything especially people and unexpected noises. She will stay behind her foster Mom when meeting other walkers on leash unless there is another dog. She will not approach you and is not food motivated. She has learned to sit and wait for her foster Mom to approach her. Gaby has lovely personality which is slowly coming out. She is a brindle colour which results in lots of conversation with other walkers.
Gaby will only be placed in a home with another dog playmate who can help her adjust to her new home. There must be direct access to a secure fenced yard. Although Gaby has been in contact with a five year old boy, it is preferred that she live in a home without children. Gaby is not generally vocal, but she has been known to bark when her foster Mom is out.
Gaby lives for her walks and will need to have daily long walks. She may be a good candidate for a running companion as she is not much of a sniffer. Gaby's new family will need to dedicate a lot of time and effort to make sure she has a regular routine in a calm household.
________________________________________________________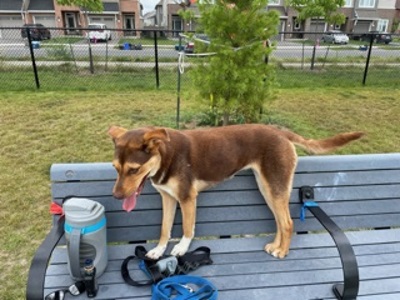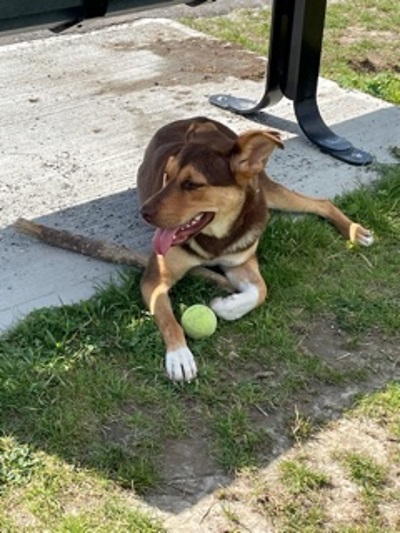 Name: Honey
Breed: shepherd mix
Age: approximately 1 year
Activity level: medium-high
Spayed has had her shots and has been heartworm checked.
Honey is super sweet and will be an excellent dog for the right owners. She seems to need a reasonably calm environment and lots of outside time. She is still a bit skittish around strangers and some dogs. She does not like cats so far and has trouble with quick moving dogs, especially if they are bigger than her.
She is mostly housetrained but has the occasional accident when excited.
She does not like sudden movements and she doesn't like to be pet much until she gets to know you (especially on the head).

She loves to be outside and go in the car. She plays fetch quite well. She will usually come when called unless a squirrel or rabbit is involved. She walks well on a leash and doesn't usually pull unless she wants to go faster or is trying to get the above mentioned squirrels and rabbits. She is getting better at not chasing the squirrels.
She has been playing well at the fenced in dog park. She is sometimes a bit mouthy with her play. A fenced yard or a tie for sitting outside with her and a cup of coffee would be ideal.

She has been getting about 3 hours of walks a day (currently broken down as early morning, mid afternoon, and before bed). She also likes to jog and explore the woods.

She does not bark much but can get a bit anxious and noisy when you leave the house and is very happy when you get home.
She has a healthy appetite. We have found that fish oils do not go well with her digestive process. She likes treats. We have not given her any people food and she will respect distance if you want to eat while you watch tv.
She likes comfortable places to sleep and can frequently be found on the couch when she thinks no one is watching.

She has had a few interactions with children and toddlers and seems to do well with them so far.
She will sit to have her collar put on, attach a leash, or receive a treat.
We have been trying to get her to wait before we cross the street.she is progressing well with this.
She likes to have an assortment of toys around: balls, squeaky ones, hard ones she can chew on. Expect to have to replace some as she will try to eat through to remove the stuffing.

She enjoys country music and napping in the kitchen while you cook or do dishes.
_______________________________________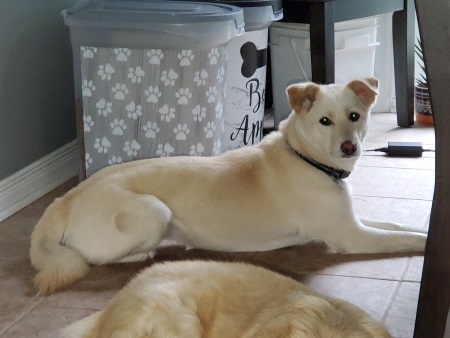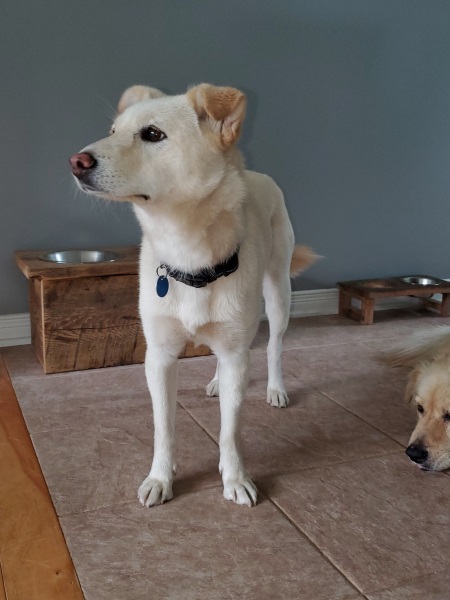 Name: Mila
Breed: Korean Jindo mix
Age: Approximately 2.6 years old
Weight: 30 - 35 lbs
Spayed/ Shots up to date
Fenced Yard: essential
Other Pets: Another dog is a must
Children: Teens

Mila is a very sweet dog that needs people who are patient and calm with children only over 13 years as she still startles at loud noises and sudden movements. She is fully house trained and loves her chew toys and to be petted by her foster Mom. She is very wary of visitors to the house but give her time and she will slowly come round to inspect them - sniff at them, touch their hand with her nose. It does take time for her to allow you to pet her. She will warm up to newcomers eventually so slow introductions are best. Asking her permission to pet her helps.

She is gentle when taking treats and hasn't really shown any aggression. The only time is when her foster brother (Yorkie) stares at her while she eats, as he is known to take food from other dogs. She still has a hard time trusting people if they try to pick her up. If you do this too fast she will try to nip as a warning. She needs time to trust you.
The Korean Jindo is a highly active dog that requires long daily walks or runs along with plenty of active play time and, ideally, room to run outdoors. Mila, wakes up around 5:00am every morning and she is ready to tackle the day. As soon as she is outside in the back yard she will do zoomies to relieve some of that pent up energy. This will take place a few times in the morning but eventually she settles. She loves to play with her foster sister. She enjoys her long walks but still pulls a bit on the leash. She has been let go with a long lead in a large fenced in dog park and she will stick around. She also comes when called as long as there is reward. She follows her foster mom everywhere in the house and doesn't like it when she leaves.

She will need continued work on loose leash walking. She has no problems meeting new dogs but people is a different thing. She is not aggressive she is just very skittish around humans. This takes time for her to trust people and will need a few visits before she is ready to go.
Mila loves to play with other dogs, go on walks, runs, car rides and of course scratches. She is a great dog for camping trips as she doesn't really bark.
To inquire about adopting Mila please email smckeil@primus.ca
__________________________________________________________________________________