Many people question the cost of adopting a dog, we charge $350.00 for a dog
As a registered charity we are not supposed to make money and we certainly don't.
We have received notification from a few of the main hospitals that give us discounts;
they are increasing our discounted fees. We are struggling as it is to stay
within our budget. Registered charities are required to spend almost all the money
they raise. None of us find that a problem. Because of this new fee schedule we
need to increase our adoption fees. We hope everyone understands we are not
making money here we are just struggling to stay afloat another year.
To inquire about adopting our dogs please call
613-738-0119
or
819-776-5090
_____________________________________________________________
To inquire about adopting Annabelle please call
819-776-5090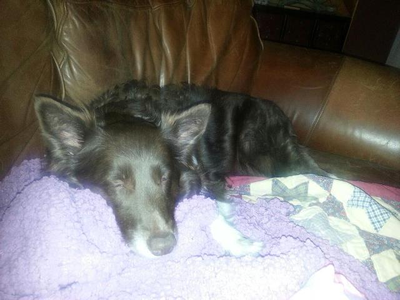 Annabelle
Please note Annabelle is brown and white although
she looks darker in this picture.
Bella is a 4year old Border Collie who is searching for her forever home.
Currently she lives with two other dogs a cat , two goats and two horses.
She is fine with all the animals and even tries to play with the goats.
Bella is fearful of new situations but once she is comfortable she is a
real sweetie, she just needs time to learn to trust. She will bark out
of fear at strangers but quickly calms down after she realizes they
are friendly. She seems to prefer women to men although she
does now cuddly with her foster Dad. Bella is a typical border
collie that likes to run and play , with her energy focused
she would be a great sport dog.
When She first arrived here she was very scared of her collar and
leash , however she now accepts her collar and we are working
on the leash, She will need someone who can give her the time and
patience she deserves and in return she will give you all the
cuddles and love you can imagine. She is very sweet girl
and just wants to do the right thing.
Annabelle should be adopted into a primarily female household.
___________________________________________________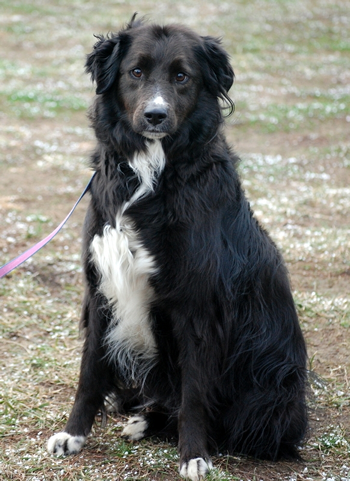 Bonnie
Bonnie is a female Border Collie/Duck Toller retriever
(mostly Border collie!) She is 5 years old has been spayed and is
UTD on shots. Bonnie presently lives with 5 other dogs and a cat
and gets along famously with everyone. She is completely
housebroken, is not destructive, knows basic commands and has
an amazing recall. She is also crate trained and travels well in
a car. She is not an excessive barker.Bonnie can be stand offish
with new people but will warm up quickly when properly introduced,
especially if there are treats involved!

Bonnie will need a Forever Home that is familiar with Border Collies
& their needs. She is an active girl who needs lots of exercise. When
properly exercised though, she can settle nicely. She would make a
great sports dog for BC lovers. She is a very happy, sweet girl that
wants to please you & play.We are looking for a Border Collie savvy
home that can give Bonnie the exercise and mental stimulation that she
needs. Bonnie would do well with another dog but would also be happy
to have all of her guardian's attention for herself. Because of her
bounciness, Bonnie will not be placed with children under 12.
_______________________________________________________________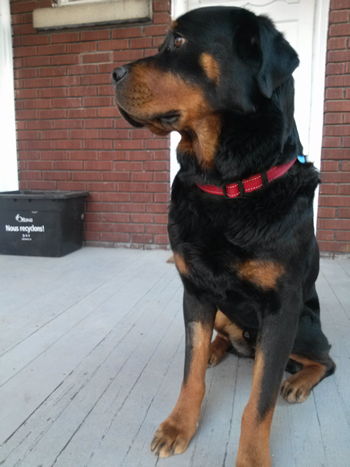 Ron
Ron is a 3 1/2 year old Rottweiler with the energy of a dog half his
age! He is a big strong boy, but a keen listener who aims to please.
He responds very well to commands and bonds very quickly with
new people, especially caretakers. As such, he does not like being
left alone. So long as he has a cosy room to stay in, however, he
is little or no trouble when left at home. Ron enjoys the company
of people, other dogs, and cats alike. He is dominant, which does not
cause aggression in him, but may cause rifts with other dominant
dogs. He is also OK with children, but is not always gentler in
his movements when they are around. Overall, Ron is a very agreeable
boy with nothing but the best intentions. He is well suited to
anyone looking for a dependable companion who is
able to guide him and show him as much
love and attention as he is guaranteed to show them!
__________________________________________________________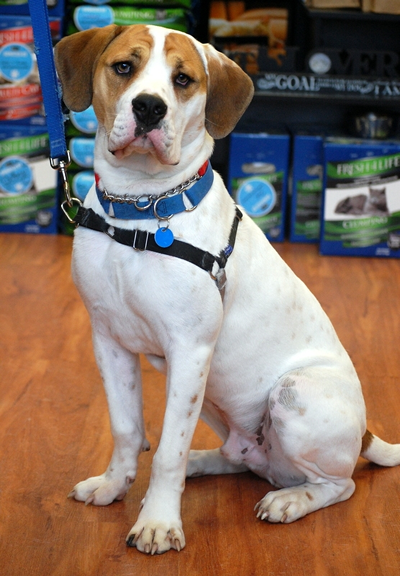 Barney
My name is Barney.
I am a mixed breed of total awesomeness. I like belly rubs and hugs.
I am learning to give a paw and sit patiently until you say it's ok
for me to carry on. I used to jump up a lot but I have learned
people will bend to pet me so I don't need to jump up anymore.
I felt I needed to be in charge sometimes but now I like being
a follower. I will try it on with you but be firm with me and I'll
submit. I have moved around a bit but have always made friends
and been loved by my foster parents.
I like kids and just met my
first cat, I was surprised when the cat touched my nose with her
claws. I know I can't play rough with kids but I sure love to
play with other dogs and cats. I went to Conroy Pit and met tons
of fun dogs. I used to eat without breathing but I have a special
bowl now that forces me to eat much more slowly. I am learning to
be obedient and respond to verbal and hand signal commands.

I am a clean dog and I know my potty is outside only. I would
like to find my forever home and make you happy. I am a puppy
still even if I am full size. I still do some puppy behaviours like
licking hands to get food. My Alpha caught me licking a plate
on the dining room table last night, he barked so sharply my tail
tucked and ears went back and I really knew I stepped out of line.
I sleep in a crate and when I have been exercised I am quiet all
night. I get sad sometimes and whine when I am crated and seeing
you leave will be hard for a few weeks. This is because I have
been moved around a fair bit, be patient I promise it will improve.

My current foster has me crated when he is asleep or out, so
I don't know if your shoes are safe if you leave me out of my crate.
I travel well in cars and like to bite the air rushing by, one day I'll
get a bug in my mouth and then I'll stop. Sometimes the
air blows open my lips so I look like a dog with a parachute face.
I have accepted wearing a seat belt in the car.

I like to drink from hoses and squirt bottles; really any running
water is fun. Alpha wants to take me swimming soon; he wants to
video my first swim with him. Not sure why.
I love to go off leash and run around with you. I do come when
called but not as well as Alpha would like. We can practise until
I'm good enough for you. I may play fetch sometimes but I'm
too bouncy to play for long. I like to play off leash once per day
and then have an on leash walk (or two).
The people at BARK saved my life and if I just find my forever
home I will be happy. Maybe you could come for a walk
with me and Alpha and see if you could be my new Alpha.
I have 10 years or more of unwavering faithfulness and
companionship to offer. I'll even fetch you beer if you fetch me bacon.

Barney is up to date on shots and has also been neutered He is a Basset Hound mix.
approx a year old.

_________________________________________________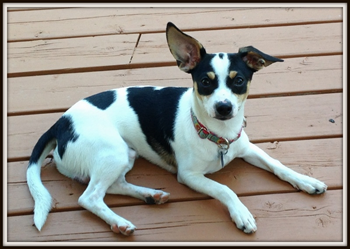 Dexter
He has blended in nicely with the rest of the "pack" >>> (lab mix, schituzu,
schnauzer, and dexter) 4 dogs and 2 cats -He is curious about cats, and
my Charlie (cat) is not afraid of dogs. Charlie at one point had Dexter
right up his butt...like his nose was GLUED glued to his bum. After about 2 min.
of this Charlie sat on it and twacked him on the nose (claws not out). My Black
cat runs - which makes it fun, so yes... the CHASE IS ON !! lol.
He is not trying to harm, it is only a game of chasing.
He is crate trained, and even on his first night no whining or howling -
seems to be a safe place for him in his mind. He walks well on a leash.
During the day he has full run of the house. Not once did he have an "accident", clean he is !!
I feed about 1.5 cups evenly mixed
once in the morning, then at night same mix but for 2 cups.
He waits patiently at feeding time - as I have 4 dogs to feed . I do feed them all on a
carpet that is aprox 4 feet x 8 feet. I put the food down on the carpet and wait until all the
little eyes are making contact with me. So....yes the DROOL tap
is on lol. No food aggression while everyone is eating.

He does well with people that live in the house, my mom comes over all
is fine. He seems to be a bit unsure when it comes to strangers, tends
to want to PROTECT you , warn you. But again he is a puppy and learning.
He will warn you when someone is in driveway or walking down the street.
He loves to cuddle, he really is a sweet boy. If I am sitting on the sofa he will
come over and the moment i touch his head (pet him) he pushes his head
into you looking for more attention.He is a big Laid-back goof, and I do
enjoy him. He will lay at your feet for hours. He is not a chewer
(shoes etc) but he does love his beef Femur bones.
When he arrived here he had elbows with (liquid accumulation) size of golf ball.
This seems to have been absorbed or somehow drained. They are
still there but much smaller in size, they don't seem to bother him.
He is going to make someone a wonderful companion. He sits and waits
at the door to come in, does not bowl you down. He is very smart boy,
but does try to get his own way lol.
Loves to please you.
Dexter is a 10 month old Rottweiler neutered, shots up to date.
______________________________________________________________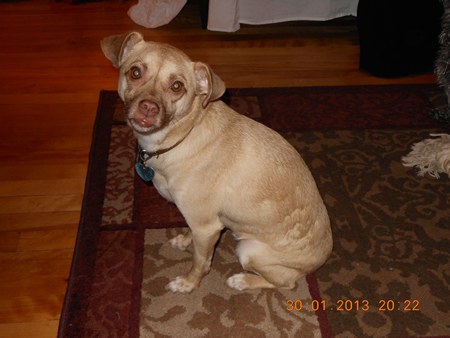 Bones
Bones is a Chihuahua terrier mix with a slight under bite. He is fourteen
months old, neutered and his shots are up to date. He weights almost 20
pounds and could stand to lose a bit. It appears that he was fed table scraps
in addition to his own food as he expects to lick the dishes after our
meals. The extra weight should disappear with exercise and a moderation of his diet.
Bones is housetrained, walks well on a leash and sleeps quietly in
his crate when his foster family is away from home. He is a lap dog
and likes to cuddle up or sleep near his human companion whom
he keeps in sight. He is said to be good with children although this has not been tested.
Bones has many traits of a terrier such as barking at anything that makes a
noise. This could make him appear nervous but he listens when he is told
to stop barking. He plays with his foster sister or plays on his own
with his toys. He particularly likes the Kong which is just as
well as he seems to tear soft toys apart very quickly.
Bones rides well in the car and has obviously been a well loved dog.
He will make some family a wonderful pet.

___________________________________________________________________
Mellow
Meet Mellow … She is approximately 18 months old and weighs 8 lbs.
Our best guess is that she is Chihuahua and Jack Russell mix.
Mellow was found as a stray and I suspect she didn't have an easy life.
She was very afraid when she came to live with me and would
cringe every time I tried to touch her or pick her up. She has since
learned that human touch can be fun and she is now quite happy
to cuddle on the couch or on your lap.

Mellow is still leery of strangers but she does warm up quickly ... especially
if there are treats involved! She will need guardians to continue guiding
her through new situations with positive training techniques. Mellow
is now having good experiences meeting all kinds of people
and canine friends and with proper guidance and encouragement,
will continue to blossom.

Mellow currently lives with 3 other dogs and a cat and gets along famously
with everyone. She is an active little dog who loves to play with her canine
companions. She likes to go on walks, even in the winter! Her recall is getting
better but she will need a secure fenced-in yard to call her own.
Mellow is not destructive and her house training is coming along very well.
Mellow is an amazing little dog who deserves a forever family that will spoil her and
show her that people can be kind and gentle. If you think you can give
Mellow the love and attention she so deserves, call Nadine at 819-776-5090
or e-mail nadine.marcotte@sympatico.ca

Mellow because of her size will only be placed with children 10+
who are good with small dogs.

______________________________________________________________
____________________________________________________________________________________________________________________________________________
Dogs listed below this line are not B.A.R.K. Dogs They are being listed by their
owners because they have special needs. Please read carefully
and call the owner directly if you are interested.
_______________________________________________________________________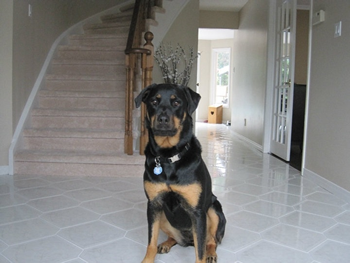 Hi I am looking for a loving home for our 5 yo rotty. She
is spayed and with no medical history. She loves walks, to play
fetch and loves to swim. Luna considers herself a lapdog and
loves to cuddle. She is very good on walks, sits at intersections,
and she listens to the commands; sit, come and down.

Unfortunately small children make her really anxious and nervous
and therefore needs a new home as we have a new baby girl.
She's good with other dogs once dominance has been established
either by her or the other dog. She hasn't been around any other animals.
I hope that you are able to find a new and loving home for her.
Our phone number is
519-222-5101.
Thank you.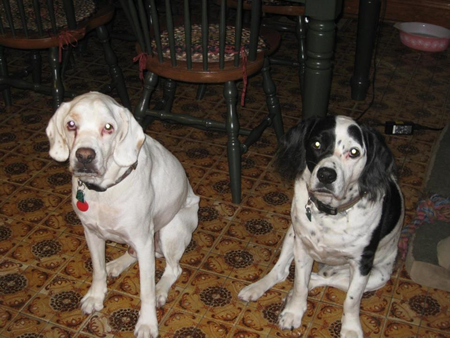 Ralph and Gonzo
Ralph
Ralph is about eight years old. He's mix though we aren't sure what with, and has a short white coat. He's neutered and takes daily medication for Addison's Disease, as well as a shot every 25 days.
Ralph is a huge attention seeker and would benefit from possibly being in an only dog home as his attention seeking can sometimes turn into possessiveness. He gets on well with other dogs for the most part in a play setting once they have been introduced properly but he does not get on well with cats. Because of his possessive nature, a family without small children would be desirable.
Ralph would benefit from a home with an enclosed back yard so that he could run around and let loose some of that energy he's full of. He is a barker though so it's not advised for him to be left outside for a long period of time unattended.
In the house Ralph will alert you to people at the door and is sometimes a little too friendly greeting them. He does jump so it's important to keep him under control when introducing him to new people.
Due to his medication Ralph needs to go to the washroom quiet often. This can be an issue if you aren't around him when he needs to go as he wont indicate that he wants out, he will just use the washroom. We've been working on training him against this behaviour but it is important to keep an eye on him after he's eaten.
Because of Ralph's problems with indicating he needs out, he's been put on a once a day feeding schedule to make it easier to monitor when he needs out. He's fed two cups of kibble around the same time every evening and this seems to work well for him. He is definitely a messy drinker due to his under bite ( which is also part of his charm). Ralph isn't a forager and won't open up garbage's.
Ralph is a very hyper boy and loves bouncing around and playing with his toys. He would do best in a family that can fit him into their daily routine and has lots of time to take to the dog park and for walks so that he can run around and sniff at everything.

Gonzo
Gonzo is about eight years old. He's mix though we aren't sure what with, and has a medium black and white coat. He's neutered and takes daily medication for chronic pain from hip surgery that he's had quite a while ago.
Gonzo loves attention and would benefit from possibly being in an only dog home as he can be very submissive in a pack situation. He gets on well with other dogs for the most part in a play setting but is shy at first. He gets on well with cats and doesn't have much of a prey drive with smaller animals. Gonzo would be fine in a house with small children.
Gonzo would benefit from a home with an enclosed back yard to run around in. In the house Gonzo will alert you to people at the door and is sometimes a little too friendly greeting them. He does jump so it's important to keep him under control when introducing him to new people.
Gonzo has been put on a once a day feeding schedule to make it easier to monitor when he needs out as his current foster family works during the day. He's fed two cups of kibble around the same time every evening and this seems to work well for him. Gonzo is a forager and will get into garbage's left uncovered or eat food left unattended. People food does give him an upset stomach and has caused him to have accidents in the house.
Gonzo is an incredibly loving dog and is more than happy to cuddle up to you and stare lovingly up at you.. He would do best in a family that can fit him into their daily routine as he just wants to be around people as much as possible.

To inquire about Ralph or Gonzo please contact
kkelford@storm.ca
______________________________________________________________________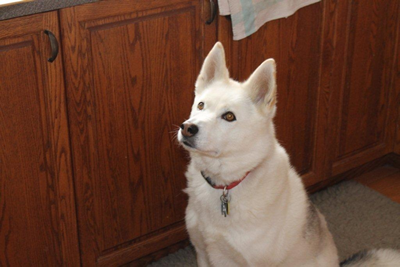 Tarka
Hi My name is Tarka.
I am a beautiful mostly white Siberian Husky.
I am 9 yrs old and my vet says that I am really healthy and my teeth are beautiful.
I have not had any major medical issues and have had all my vaccinations.

I am looking for a nice home with someone who is home most of the day.
I do tend to get some anxiety when left alone for too long.

I would need a fenced yard as I do tend to wander around the neighbourhood,
but I always come home when I am done visiting.
I am good with submissive dogs but I have never lived with cats.

I am very sweet and good natured and I love and am very
affectionate with people once I get to know them though I do prefer adults.

Hope to meet you soon
Tarka
613-258-9987
________________________________________________________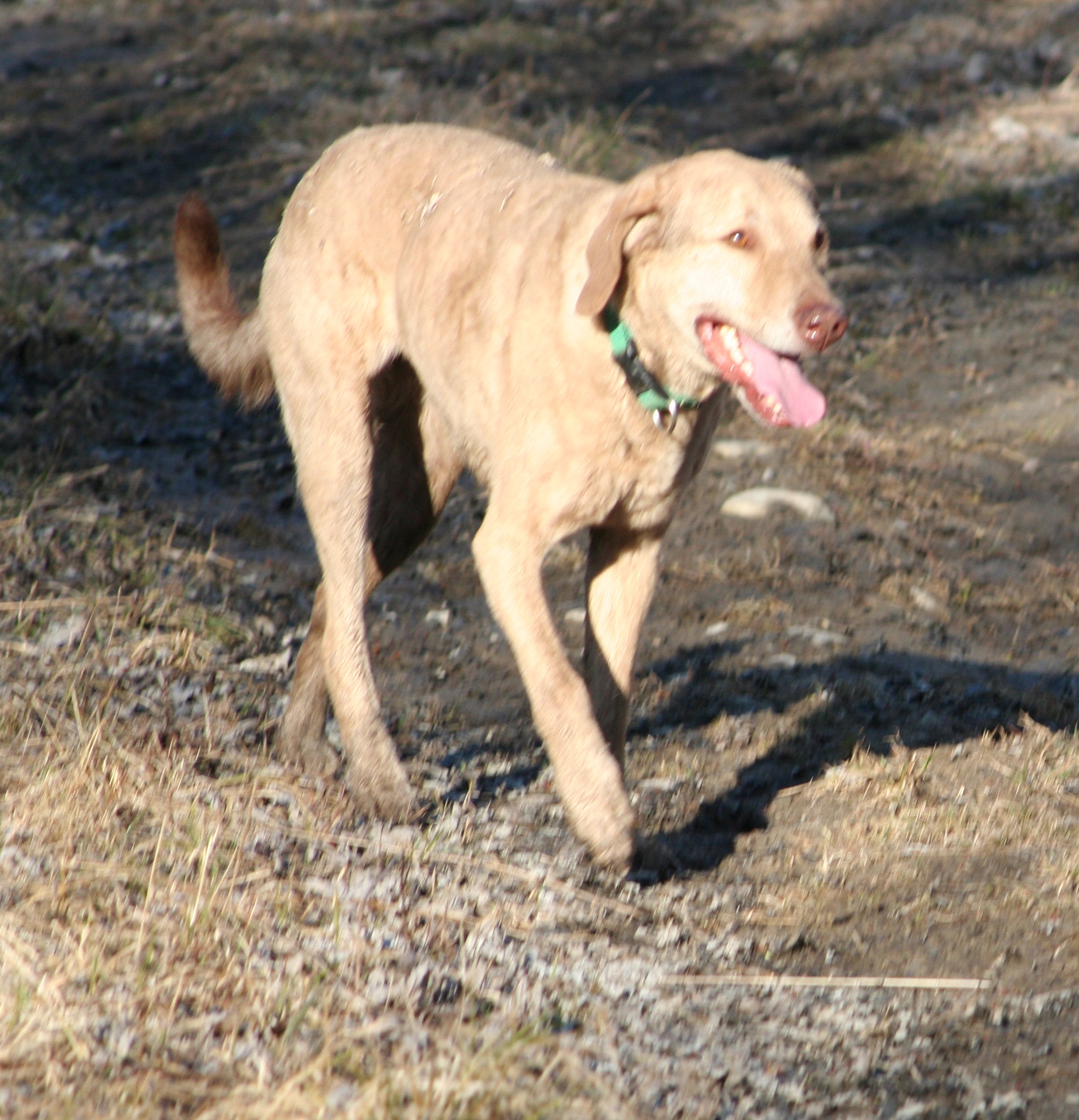 Splash
Splash is a Chesapeake Bay Retriever. Splash is 8 years old and good with
people and children of all ages. Splash is looking for a home in
the country where she can be taken for regular off leash walks,
she sticks around so a fence is not necessary if there is no
immediate neighbors. Other than her walks Splash is an easy
keeper, enjoying nothing more than lying on the couch. She
doesn't' chew anything other than her Kong toys and
has a great retrieve. She will retrieve outside all day if you
want and loves to jump off the dock to get her toy. Splash
walks well on leash. Splash will do best in a home with no other dogs
but would probably be fine with cats
after some work. Splash is fine on leash walking by other dogs
but doesn't' enjoy playing or interacting with them.
613-989-3647
_______________________________________________________________
If you were hoping to find a specific size or breed of dog to rescue,
but we don't seem to have that 'special' dog listed above,
contact Sharon or Nadine and they would be glad to put you on a waiting
list - we may know where to find the one that you've been hoping for.
---
~ Who Are We ~What Do We Do ~ How Much Is That Doggie In The Window ~
~ Foster Parent Program ~ Happily Ever After ~ ~ Memberships & Donations ~ ~ Bark Boutique ~
Volunteers ~ ~ Other Dog Related Links ~ ~Newsletters ~ Upcoming Events ~
~ Licks & Wags ~ This & That ~ Fond Memories ~ Contact Us ~
~ Top of Page ~