Many thanks to the people at "Creature Comforts" who sent us this next story
and we dedicate it to all the wonderful people who keep this organization
alive and well.
Reunions at the Bridge
[Author Unknown]

The young pup and the older dog lay on shaded sweet grass watching the reunions.
Sometimes a man, sometimes a woman, sometimes a whole family would approach the
Rainbow Bridge, be greeted by their loving pets and cross the bridge together.

The young pup playfully nipped at the older one. "Look! Something wonderful is
happening!" The older dog stood up and B.A.R.K.ed, "Quickly. Get over to the path."
"But that's not my owner," whined the pup, but he did as he was told.

Thousands of pets surged forward as a figure in white walked on the path toward
the bridge. As the glowing figure passed each animal, that animal bowed its head
in love and respect. The figure finally approached the bridge, and was met by
a menagerie of joyous animals. Together, they all walked over the bridge and disappeared.

The young pup was still in awe. "Was that an angel?" he whispered. "No, son."
The older dog replied. "That was more than an angel. That was a person who worked rescue."
_____________________________________________________________________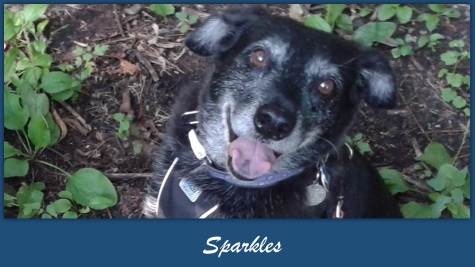 Sparkles aka. Sparky, Barky, Senior Pee Pee


Sometimes the most wonderful things that happen in our lives are the most unexpected.
Sparkles was a Katrina survivor who I know was meant to be a part of our family. It took some
time for him to make his way to us and when he did, it was last-minute and a surprise. There
were many challenges along the way beginning with a diagnosis of heartworm that prevented
his rescuers from bringing him home at first but finally, almost 18 months later he found
his forever home with us, and we are so very grateful that he did.

Sparkles brought joy to us in so many ways. A playful comedian, grief
counsellor, constant companion, reading buddy, food fanatic, and sentry
for his fearful brother he truly did Sparkle each and every day.
He made the world a better place just because he was in it.

He loved children, making new canine friends, squeaky toys, catching
popcorn with a celebratory snort, food, food, food, long walks in the woods,
massages, cuddling, and being brushed. Anything left on the floor was fair
game and became his new bed. He was most certainly a creature of
comfort and we were more than happy to oblige.

Sparkles lived more than 16 years surviving most if not all of the many
Katrina rescues brought to Ottawa by BARK, including our second beloved
Katrina rescue Gerald. Although we are devastated by the loss of this
incredibly wonderful soul, we are grateful that he enjoyed good health
and a happy life with us until just a few short weeks ago.
Now, go find your brothers at the rainbow bridge little buddy. Run, play,
sleep in the sun, and bark as much as you want. Until we meet again...
_______________________________________________________________________________________________
Rocky
Rocky was my beloved dog and best friend that I adopted almost 13 years ago from BARK.
Rocky was loyal and protective and always by my side. He loved his walks in the park,
snuggling on the couch, trips to the cottage and really anything that involved a car ride.

I was crushed when he became ill with Kidney disease and he passed away
on Dec 12/2017 at the age of 15. As painful as it was, I take solace in the fact that
he brought 13 years of joy and happiness into my family's life.
He has left me with a void in my heart.

I miss you Rocky!

_______________________________________________________________________________
Eva the Diva: June 12, 2006 to December 1, 2017
Eva, my darling sweet happy girl, you brought so much happiness to
me and to everyone who met you, especially children. My heart is broken
with your passing. You were my Diva. You ruled the house and the hearts
of everyone who was lucky enough to meet you. Your time with me in your
forever home (adopted February 26, 2016) was so short, but left me with
so many wonderful memories. You are forever in my heart.
Rest in Peace sweet girl.
Love always from your Momma Joan (and your foster Mom Carol) .
_______________________________________________________________________________________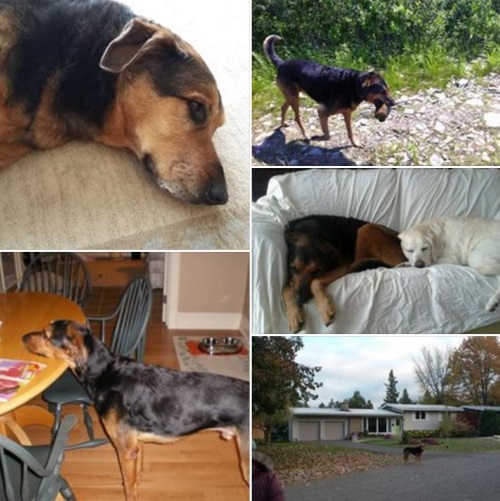 Taz
Taz came into our lives almost 9 years ago as a quite underweight dog. We watched him grow as
he played with Tawny (our yellow lab), went on long walks and learned that playing in water was fun,
as well as hunting frogs (he never caught any) and chasing Tawny to get the kong.

The big lug wormed his way into our hearts with his funny mannerisms and general goofiness.
Feb 25, 2017 is the day he left our lives, and we hope he is enjoying himself in the happy hunting
grounds. You were our big shadow, and we will miss you forever, Taz.
Freda & Mark
__________________________________________________________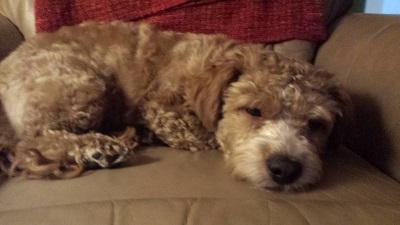 Ollie
August 2015 – December 2016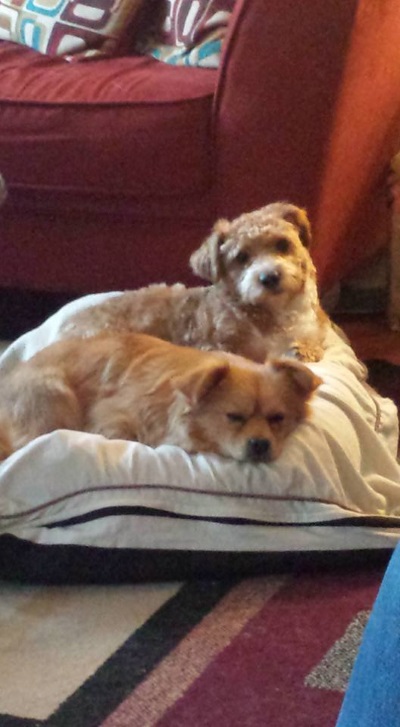 Ollie with his Foster Brother one of our China Dogs Cosmos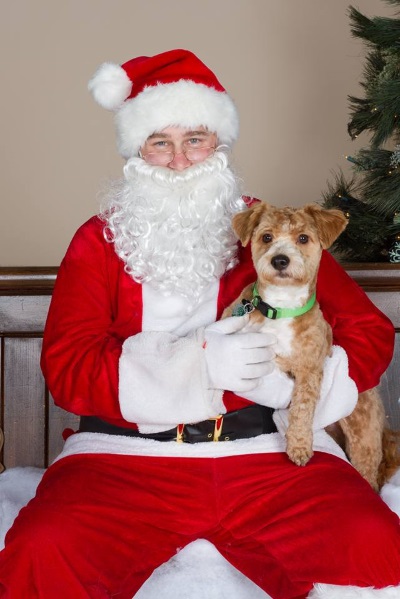 Ollie at our Bark Photos with Santa this past december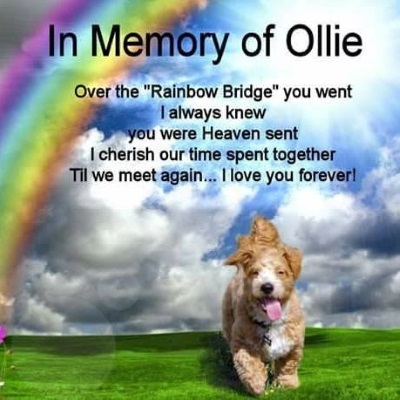 With a heavy heart and a million tears, our little Ollie passed
away suddenly on December 31, 2016. Ollie was only 18 months
and he was the happiest little guy you could ever meet. He was
a little joker and loved to play fight with his brother and loved all the
belly rubs he could get.. Ollie loved anyone that he met and had the
gentlest temperament of any dog we've known. Car rides were an
exciting time for him as he loved to watch people and see what was going on.
As Dave puts it; "he was a curious little monkey".
Prior to Ollie's passing,
he was gifted with a foster brother, Cosmo, who is from China. The two
of them played happily together and loved to sleep on the same bed.
We are thankful to have had Ollie in our lives even for such a short time.
Our hearts are broken but he will be remembered and missed.
Casper (our other pup) and Cali (our cat) miss him so much.
Rest in Peace Ollie!
_______________________________________________________________________________________________________
Oreo
Oreo first touched my heart when I saw him on the BARK website. There he was looking out as if to say
come and get me. Oreo was 6 when he came to BARK, unneutered and looking for someone to take care
of him. After an hour with him at his foster home it was love a first sight I think for both of us and home he came with me.

It was a fairly large adjustment for both of us as it did not appear that Oreo was used to a lot of dogs and I live in a
neighbourhood full of dogs and their owners who walk regularly past the house and around on the path. This made
Oreo quite excited and it took some adjustment to get him used to all the other dogs in the neighbourhood.

I was fortunate in getting in touch with a great trainer, Cher Wood who was instrumental in helping both Oreo and me
learn to be less excited and reactive when around other dogs. Although we were never perfect
we certainly were better at it and enjoyed a whole lot of walks.

Oreo went out with Cher on a regular basis during the week for an off lease run and also to training classes.
Once that was finished Oreo then went out running with another group which he loved until the last.
Oreo was really never without me, he came on weekend visits to the family and to the cottage in the summer,
and he was a great traveller in the car. At the cottage, he loved sitting down by the dock watching the
waves roll past on Georgian Bay as we sat beside him fishing.
I will miss this big lovely boy who gave so much of himself and was so wonderful.

__._,_.___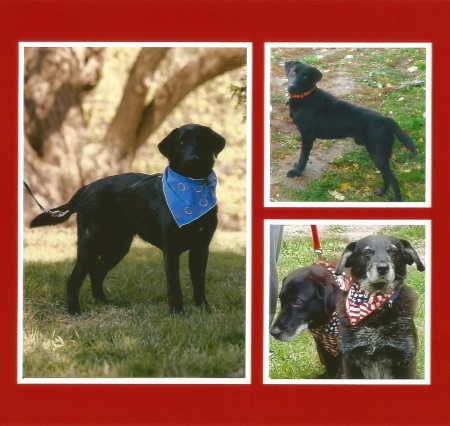 aka: Crazy Gerald from Louisiana



Gerald came into our home for a short stay as a foster and never left. He filled our lives with more joy
than could ever be imagined and we are so very sad to say goodbye to our beautiful boy.

Throughout his life we laughed about his unusual ways, how he loved running free (even when he
wasn't supposed to be), rolling in the grass and snow, shaking his toys like a wild man and oozing
off the couch like a dog in a Salvador Dali painting. He always enjoyed a good game of tug of war and
going for long walks in the woods and on the beach, lying in the sunshine, being chased around
the back yard, playing with friends old and new, belly rubs, neck massages and cuddling with a family member.



Sadly, Gerald had cancer and when we learned that it was time for him to go we were devastated.


Fare thee well my beautiful friend. You can run free any time you want now. We miss you more than words can say.


May I go now?
by Susan A. Jackson


May I go now?
Do you think the time is right?
May I say good-bye to pain-filled days
and endless lonely nights?
I've lived my life and done my best,
an example tried to be.
So can I take that step beyond
and set my spirit free?
I didn't want to go at first,
I fought with all my might.
But something seems to draw me now
to a warm and loving light.
I want to go. I really do.
It's difficult to stay.
But I will try as best I can
to live just one more day.
To give you time to care for me
and share your love and fears.
I know you're sad and afraid,
because I see your tears.
I'll not be far, I promise that,
and hope you'll always know
that my spirit will be close to you
wherever you may go.
Thank you so for loving me.
You know I love you, too.
That's why it's hard to say good-bye
and end this life with you.
So hold me now just one more time
and let me hear you say,
because you care so much for me,
you'll let me go today.
_____________________________________
I wished that it was you I'd seen

I thought that it was you I'd seen
running along the forest floor
We were walking in your memory there
missing how it was before.

His name was Jack I learned
as he stopped to say hello
And as I stroked his soft dark fur
the tears began to flow.

"I lost my boy a week ago"
I was about to say
Before I could begin to speak
he was on his way.

Standing there in silence
I watched him go where we had been
Longing for your company
I wished that it was you I'd seen.

In Loving Memory of Gerald from Mommy
___________________________________________________________________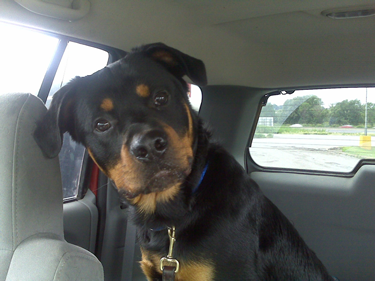 Coming Home
4months
Sweet Baby Boy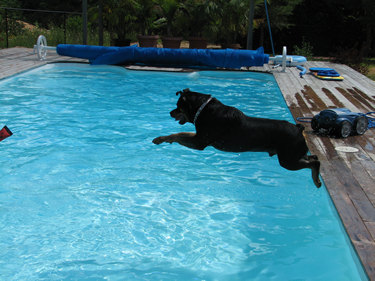 Crazy Water Dog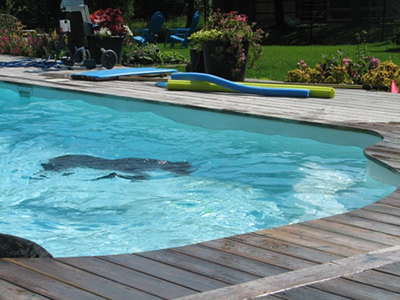 His Best Seal Imitation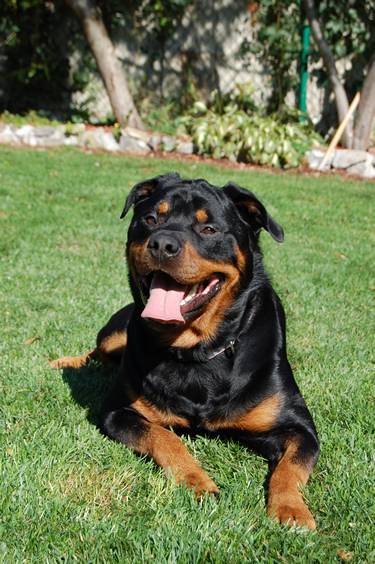 Bauer
" The Best Boy Ever"
October 30, 2009 - April 15, 2014
aka: The Giant Head, Pumpkin Head, Bauer/Wauer
Love Bug, Sweet Baby Boy, The Lug, Mama's Boy, Mr Fat Butt
Rockstar.
He was four months when we got him from Adopt-a-Rott, we drove to Bowmanville
to pick him up in the pouring rain. He was worried and tense not understanding
why he couldn't stay in the home he spent his first few weeks in. Little did we know
how he would change our lives infinitely for the better.
In the beginning we were stunned. we asked for a busy puppy and got ADD,
we asked for a little naughty and got the puppy from Hell. We couldn't wear
him out but he quickly wore us out and we wondered what we had gotten ourselves into.
Slowly he adjusted, became the most beautiful, affectionate, social butterfly we
had ever owned. he let complete strangers in our front door, welcoming everyone
into our home and charming anyone who met him. Many. many people
left our home with a brand new concept of what a Rottweiler really was, wonderful.
We were so unprepared to lose him and to lose him to an inoperable brain tumor
was just beyond our comprehension. We watched this beautiful soul slip away
in less than 10 days from diagnosis. Living without him has been very difficult,
we always said "he lived life large" and he left a large space we are trying to fill
with wonderful memories.
He taught us so much about how to live life, with complete abandon. To drop
what we were doing to play because it really mattered. To trust his instincts,
if he was worried we should be too. Most of all he taught us how to let go gracefully.
We are so grateful to Dr Lianna Titcombe and her team for making a very hard
day bearable by coming to our house and making the Big Boy's last hours so peaceful
and to Eternal Companions for the dignity and respect they accorded him and the compassion
with which all the people involved accorded us.
Sharon McKeil
President
B.A.R.K.
________________________________________________________________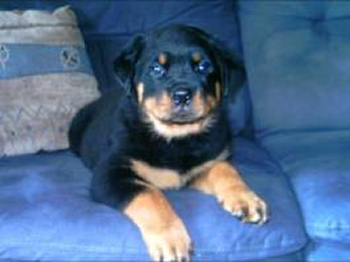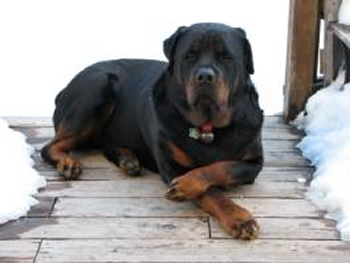 Bö
June 26th 2004 - March 24th 2013
Our wonderful Bö passed away at 130 PM on Sunday from an, as yet, unidentified infection. The neurologist believes it was bacterial meningitis but was awaiting a culture growth and analysis. He fought as long as he could. We were with him when his body simply gave out.
Bö was the gentlest, friendliest dog we have ever owned. Anyone that had the pleasure of meeting him would fall in love with him (just ask Pat's 94 year old mother). Bö's favourite trick was to back up into you for back scratches then sit on your feet and lean into you for ear rubs.
One of Bö's favourite games early on was chasing the lady Weimeraners from Folly Hill. Those girls were smart and would lead him though trees that grew just far enough apart to let them through but not him. They quickly learned that saplings stood no chance against Bö in full chase mode.
Bö loved rawhide chewies, which he invariably finished before any of our girls. His trick was to jump up and bark at the window then, when they joined in, he would run back and steal one of the abandoned chewies.
Only 2 things got him barking (besides his sisters) – certain animated commercials on TV and woodpeckers working his marrowbones on the deck.
Bö was a follower of the Satchel Page philosophy: why run when you can walk and why walk when you can lay down. He was trained for Search and Rescue work by Sandy but lacked the maniac drive that a certified SAR dog needs. They move with a full-out tongue-flapping run whereas Bö worked from an all-day slow trot. Pat was often the victim for his practice searches and Bö always found him. Maybe it was the pocket full of treats Pat carried.
He loved to lay down in the middle of the lawn - at noon, in the direct sun, on the hottest day of the year or when it was snowing like mad. Every so often he would decide that a good set of sprints was in order and would chase one of the girls in circles.
Bö's pain is gone and he is now patrolling the woods of Rottie Ridge. He was Pat's best buddy and Sandy's very, very special boy.
Pat, Sandy, Belle and Calypso
___________________________________________________________________________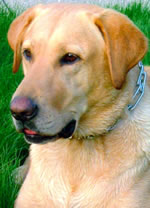 Oscar McElroy Plante
October 31, 1999 to August 13, 2011

Heavenly Father, Creator of all things,
thank you for having entrusted us with
Oscar, our loyal pet.
Thank you for letting him teach us
unselfish love.
Thank you for the memories that we can
recall to brighten our days for the
rest of our lives.
Finally, in gratitude, we return
our pet Oscar to you.
Amen.
We would like to thank Sarah Baker
from the Cedarview Animal Hospital,
Nepean for Oscar's rehabilitation
treatments.
In addition, a very special thank you to
Dr. Michèle Legault from the Hôpital
Vétérinaire Maloney, Gatineau in
preparing and assisting Oscar for his
journey home.

Sincerely,
The Plante Family
---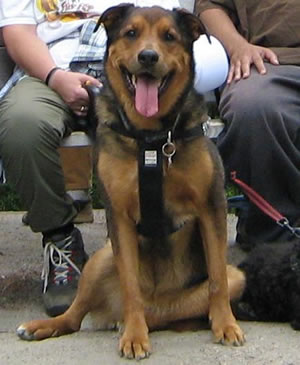 Brandy
We lost our beloved baby girl Brandy (aka Rusty) on April 20 ,2011.She was a BARK
puppy we brought home (Dec 13, 2001), as a sweet and loving puppy of only three months old.

She gave us such great joy, and happiness. She was a very important part of our lives, she came with us
everywhere. She loved camping, hiking ,canoing but she never liked to swim.We always thought
we would have her for many more years. We never thought she would be taken from us
so quickly. We had no warning. She got sick and within the week she passed due to cancer..

Our hearts are so sad and we have a empty hole in our hearts , I know it will take a long
time to get over her. But we will allways have fond memories of the wonderful time we had
with her and consider ourselves lucky to have had so much time with the bestest dog.
We also wish to thank Bark and all those involved for bringing us such a joy.

Dan Liddle and Barb Campbell
__________________________________________________________________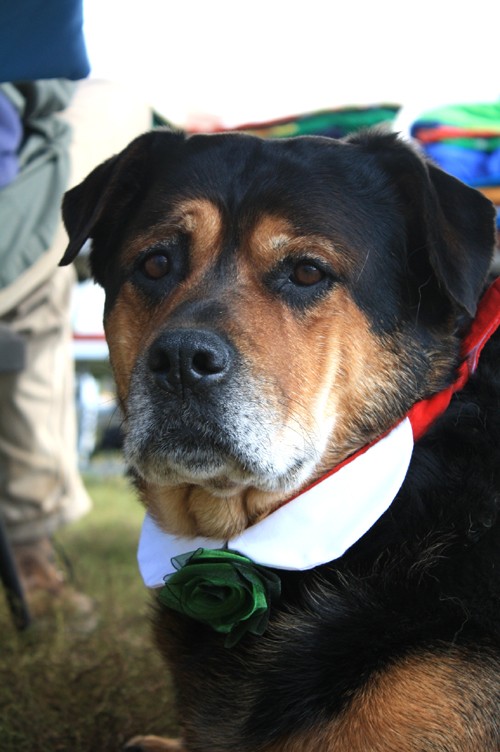 Leia
A.K.A.
LeeLee, Leah Weah, Sweetness(and Light)
Sweetpea, Petunia, Baby Girl, Pudge,
Puff and Pumpkin.
May 28, 2001 - December 24, 2010
The call came in on a Friday night. A Rottweiler desperately needed a place to go;
her owner had gone away and wasn't coming back. We knew we couldn't
leave this dog where she was. She had been chained to a doghouse her entire life,
she had just turned five. We had just lost our female Rottweiler 6 months before
and were not ready for another dog but decided we could at least foster
her until a permanent home could be found.
When we got there the people who had this poor dog told us the whole story.
Her owner had made headlines in Ottawa a year and a half before when he
murdered a man at the Midway in Gloucester. He had recently been sentenced
to 13 years in jail; his parents wanted the dog to have some
kind of life finally and contacted Bark.
The dog was still chained to her doghouse with a ten foot chain in the middle of
a huge sandpit. She was desperate for attention, painfully thin and very filthy.
She was also quite frightened of the Van we were driving. We had to literally
drag her into the vehicle. How do you tell a beautiful dog with eyes as big
as saucers, shaking like a leaf that her life is about to become soooo much
better, that she will never live outside again, she will always be fed great
food, she will sleep on a bed, she will live in an air conditioned house and from
that moment on she will be loved, kissed, hugged, walked, played with, have
toys and bones every day of her life and a real adoring family of her own?
The next six months were very difficult for all of us. She had never lived in a
house, never walked on a leash, never been taught the very basics like sit,
stay, down, off the counter, out of the garbage, never had a toy or bone.
The saddest thing she did was to hide her food all over the house and yard
instead of eating it right away in case she didn't get fed her next meal.
The ribs sticking out told us very clearly she had missed many meals.
She cringed when you reached out to rub her and hit the floor immediately
if anyone discussed things in a loud tone of voice. We learned very quickly to
talk at the same level at all times.
Her name was Princess but we wanted her to have a new name to go with her
new life so we called her Princess Leia the first few weeks then dropped the
Princess and she became our Leia. Of course we knew we couldn't give her
up; how could anyone ask this wonderful dog to relocate
when she finally began to trust us.
A year later we were calling her Miss Entitlement, gone was the shy dog we
had rescued. She finally knew she was special. She began demanding
treats and hugs. She was becoming a normal dog. We were ecstatic.
She was the B.A.R.K. media dog, attended all our TV interviews and events
as a goodwill Ambassador for our organization and as a wonderful example
of her breed and their potential once they are removed from violent and/or neglectful
circumstances. We knew she had a hard life before we got her and we couldn't
change that but we made sure she never had another bad day.
We adored this beautiful girl and are very sad about saying good bye. She
brought so much love into our lives and asked for nothing in return except to be loved back.
As she slipped away I whispered in her ear "go find Maggie, she will take care of you".
Maggie was our first Rottweiler. When we got home from Ste Hyacinthe that night
we went down to the family room to talk and cry. In the middle of the carpet was
a shiny object which I quickly picked up so the puppy wouldn't eat it.
It was Maggie's bright pink tag with her name and phone number on it. I hadn't
seen that tag since the day she died several years before. I knew then Leia was ok.
She has crossed the Bridge now and is with her brothers and sisters,
young, healthy and happy waiting patiently for us to join them all.
Sharon McKeil
President
B.A.R.K.
____________________________________________________________________________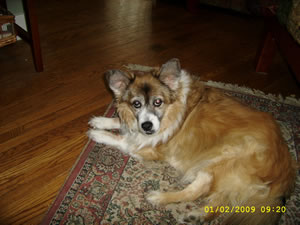 Jazz
In memory of Jazz (AKA Jazmine Jewel):
On March 4th 2011, I lost my dear Jazz, a rescue dog from a Kemptville farm 1997.
I am inspired to write this memorial due to the tribute to Gem that I read on your web site a few years ago. I believe they were litter mates. The tribute mirrored my experiences with Jazz so much that I felt I was reading the life story of my own dog.
When we adopted Jazz on Jan 17th 1998, her name was Jewel but she was anything but so we renamed her Jazmine Jewel and affectionately called her Jazzer or Jazzeroo.
She arrived with a pink ribbon tied around her neck as Carole, her foster parent said that the only way you could get close to her was by sitting in the bathroom with the door open and she would come in and sit next to you at which time you could grab the ribbon and put her leash on. That would become our daily ritual for the next 13 years.......our AM meet and greet spot for an affectionate lick on the leg in exchange for a scratch behind the ears. Imagine our delight when one day, months into our relationship when I uttered the familiar phrase "Jazzie do you want to go for a walk" and she eagerly ran toward me to put her leash on.
Every little breakthrough was a reason to celebrate. It took a year to coax her into the car but eventually it became one of her favorite pastimes. As soon as I started to pack up my suitcase for a visit to Gramma's, she would start trembling and whining in excitement carrying on until she jumped in the car and settled right down for the duration on the ride.
For years she would retreat to her "safe place", under my bed usually, but behind a chair or in a corner if need be if strangers came to the house but as she gained our trust, her confidence grew and she actually became quite bold but always cautiously sticking her nose around the corner to see who was there before venturing forth to mingle with the crowd.
And then she found her voice....barked excitedly when you came home from work, barked determinedly when she wanted to be fed, barked imploringly when she wanted a treat but never barked to come in or go out (she assumed I guess that we should know this).
She became best buddies with our border collie mix, Tristan. She was tolerated by our cat Bill. She was spoiled rotten by our neigbours Pat and Leonard. We never had to worry about where she was when we let her out on her own. She would be next door waiting for a treat.
Jazz definitely danced to her own drum but she found her way into my heart and I will be forever grateful for her presence in my life.
She taught me patience, understanding, compassion and love and I so miss her already.


Judith
______________________________________________________________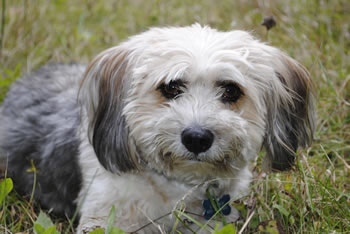 Lenny
October 2003 - October 6, 2010
Lenny was part of the second wave of dogs Bark brought back after
Hurricane Katrina. He came with his pregnant girlfriend who had several puppies
shortly after they arrived.
Our Beloved Little Lenny
Lenny came into our lives with a big bang in October 2005. He was 2. Over the first few weeks in it was quite an adjustment period for all of us. We would find him on top of our dining room table, on our kitchen counters, or on our computer desk. Anywhere he could get to, he would. And, oh yeah, he was using our furniture like a fire hydrant. Wow. What did we do? But, we managed. Lenny was just starting to act a bit more like a pet than a wild animal when, on Christmas morning, we woke up to find some of our gifts unwrapped…the gifts with the chocolate in them. No more gifts, no more chocolate.
It took a few months, but Lenny finally settled into our home (with some rules). He became part of our family, and then part of our entire neighborhood. Yes, he was a bit of a free spirit. Every day, he would go visit our neighbors. At one house, he would sit on the back deck (which entered the kitchen), look through the patio door, and wait until someone entered the kitchen. When they finally spotted him, they would give Lenny his piece of cheese or bacon and have a little visit. Then off to the next house he would go. One day, we were going to visit other neighbors, when we heard muffled barking. We realized that Lenny was inside their house, looking out their door, barking at us.
Lenny also joined the neighbors from time to time for supper, or even the occasional sleepover. One day, when I just got home from the pet store to buy dog food, I checked our messages on my answering machine. On it was my neighbor's voice. The message was "Umm, you probably don't need to feed Lenny tonight. We heard you were out of dog food…so he kind of joined us for a chicken dinner."
He got to know the sound of a bag of chips opening. When he would take off into the bush barking or chasing small animals, all we would have to do is crinkle the bag of chips, then sit back and wait. Give him a few minutes, and there he would be. Bolting it to whoever was holding that bag of chips. It was our personal dog whistle.
He was with us all the time… working in the bush, splitting wood, or at the campfire. He also got to know the sound of our ATV and couldn't wait to join us on our next adventure. Every time he heard the start of the engine, his bum would wiggle from side to side waiting to jump up into his spot (on his perch as I would call it). Then drive around with us like he was king of the world.
Lenny was very attached to us. At the dog park, he was very social, but at the same time he needed to know that we were right there with him. One day when he was playing with a group of dogs, he suddenly stopped dead in his tracks with a panicked expression. Then, he proceeded to sprint in the complete opposite direction I was standing. I realized that he thought I was someone else walking far away. It was so cute because when I called out to him, he stopped so fast, he almost went head over heels. It didn't take him long to run back to me, and we continued on our walk.
The stories are endless with our precious pup. He loved to be wherever we were. And we loved it too. We miss our little Lenny. Things aren't the same without him.
We love you Lenny!!
_____________________________________________________________________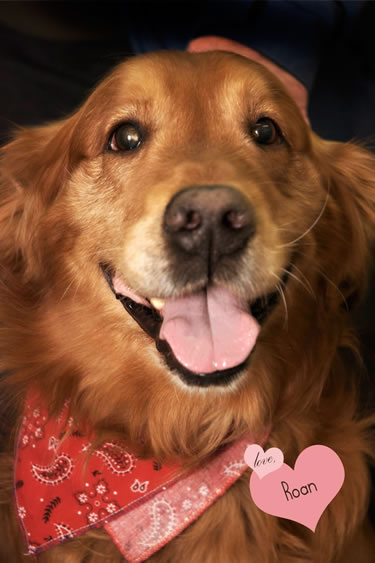 Roan
January 10, 2002 - May 1, 2010
He came to stay temporarily Dec 22, 2008, a frightened, scruffy Mill dog. We had no intention of keeping him, we are after all Rottweiler people. We have owned Rott's for many years and a Golden just didn't fit our criteria. By Christmas day we knew we couldn't give him up. After some research we decided to call him Roan which was Gaelic for "Little Red Head". He was afraid of his own shadow, spent all his time hiding behind chairs and couches. It was easy to forget he was there he never demanded anything and was so grateful for any little thing we did for him. We had taken him from one of the worst puppymills in Canada and he never forgot where he came from.
It took a year before he even started to become the handsome, outgoing dog we loved so much. Each little milestone was huge. He was a typical Golden, happy, loving, wanting nothing more than to please his family. Walking in the park every morning other dogs frequently picked on our Rottie puppy because he wasn't neutered. The older Rott just kept walking as if she didn't know him. Roan would roar over and chase the other dog away. It was so funny to see this normally placid Golden turn into a Mother Bear, he was fearless when protecting his little Brother.
We called him many things, "Roaney Baloney", "Silly Old Bug", "Pet Rock"and then when the movie "Up" came out he was nicknamed "Doug" for the mechanical dog that ran over to everyone saying "my name is Doug and I think I love you". Typical Roan behavior. We always knew exactly where he was in the house, we could hear his tail thumping. He was the happiest dog we have ever owned, his tail never stopped. Friends who had known him in the beginning were stunned at his transformation. Suddenly he was the life of every party, demanding to be seen, fed, touched. The other dogs were amazed to see him in every lineup for hugs, treats, attention. At his last birthday party he flipped on his back in the middle of the room, kicking his feet and "talking" to everyone. He knew he was important, what a shining moment for all of us "Doug" was finally part of our tight unit and loving every minute. How proud we were of our little star.
Losing him so suddenly has torn us all apart. The puppy Bauer is beyond sad, Roan was his best friend. The older Rottie Leia has once again retreated to her safe place under our back porch and comes out only when forced to eat or go to bed. We will miss this wonderful little boy our "accidental addition" who taught us all to appreciate every day and to be grateful for all we are given. He may have spent 7 years in a puppymill but he lived life to the fullest in his last year and a half. I'm not sure the rest of us can say that.
We know he will be at the Bridge meeting and greeting every lost soul, cheering them on until we come to join him.
Sharon McKeil
President
B.A.R.K.
__________________________________________________________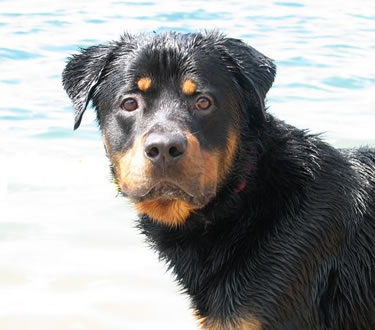 Hugo
February 28, 2008 - June 5, 2009
Hugo lost his brave battle with a horrific brain infection
after only one short week. The intensity with which it killed
him has left us struggling to make sense of a life taken so
quickly and so tragically.
Hugo brought such joy, love and laughter to everyone
who knew him but mostly to us and we adored him.
We have owned many dogs but this one was so special, he made us laugh and cry
every single day, reminding us to always live in the moment, to get out of bed every
day and greet the day with joy and exuberance. Never slow down unless it's to kiss
someone quickly and run. Always play, if no one wants to play with you play by
yourself and entertain everyone until they want to join you. Love everyone equally
while making each person feel that they are your favorite person in the whole
world. Eat only what pleases you, leave the rest, there is always
more where that came from.
Race around the yard like a mad maniac, then power nap and do it again until everyone
around you is laughing and dizzy. Make friends with the world and the world will be
your friend. Listen carefully then do as you please, people will be so captivated by
your obvious intelligence they won't even notice you carried on where you left off.
Charm the pants off the mailman, he will tell the whole neighborhood what a great guy
you are and make your parents proud. Be naughty every day it keeps everyone
on their toes. Bug the heck out of your sister until she gives up
and plays with you; it's what she really wanted anyway.
Most of all love your family passionately and remind them
every day that they are lucky you landed on their doorstep.
My husband and I would like to thank the staff at Ste Hyacinthe's Hospital
in Quebec for the excellent care they gave Hugo and the thoughtful way
they conveyed to us how sorry they were to lose this very special little boy.
We would also like to thank our Veterinarian Dr Helen Douglas of the
Valley Veterinary Clinic in Carleton Place for her ongoing support,
compassion and incredibly loving manner at all times and for coming in
on her day off to receive our little Prince and to console two very
wounded souls. We could not continue doing this without you Helen,
you have been our safe place for many years now.

Sharon McKeil
President
B.A.R.K.
Merry Christmas little man wait for us at the Bridge
December 25, 2009

___________________________________________________________________________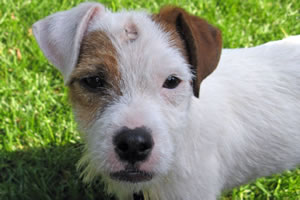 Jack
Jack R.I.P.
Jack was one of nearly 200 dogs that had been rescued from a puppy mill by the Montreal Humane Society. A call for foster homes went out to other rescue organizations. BARK -- the Bytown Association for Rescued Kanines -- took fourteen, and we took Jack.

He was a bedraggled sight having his first bath, but what emerged as we dried him off was a scrawny, feisty, wire-haired, five-month-old Jack Russell terrier. He had a sore, scabby area on the top of his head and his rear muscles were atrophied, from being kept in a too-small cage.

Jack didn't know much. He had never seen the sky or walked on grass, or been cuddled. He didn't understand what being called meant; he would just sit with a quizzical expression on his face, head tilted to one side.

By the second week, he loved his new life, becoming a real dog. He took a long time to become housebroken. Friends, trying to be helpful, recommended that we keep him in crate, but we vowed that he would never be caged again. After a third week he "got it", and never had another accident.

Jack loved affection. He delighted in pulling socks off our feet, carrying them off to his bed.
He still misjudged steps and heights when he ran, and often limped from his latest impact with a fixed object. He began to favour one back leg, and we worried that he might have hurt himself. Somehow his back legs weren't working properly.

In the mornings, he enjoyed a short walk outdoors but later on he would carry one hind leg, or fall sideways if he turned quickly. He seemed to be in pain. He got used to being lifted up. He began to carry all his weight on his front legs, only using his hind legs to hop or pivot. By the end, he could walk on his two front legs, with his back end up in the air.
Something was dreadfully wrong.

We took Jack to a veterinary surgeon. She took X-rays. There was bad news: Jack had no hip sockets. They had never formed on his pelvis, something genetic, perhaps from inbreeding. The weight at his back end was being supported, not by the ball-and-socket joints in his hips, but by the flesh in his thighs. He was in constant pain. Experimental surgeries were possible but unlikely to succeed. There was no hope. The vet recommended Jack be euthanized.

Although the Montreal SPCA had rescued the dogs, they remained legally the property of the puppy mill owners until the case went to court. Until then, BARK didn't own them, so they couldn't be put up for adoption or even given medical treatment. Because of the circumstances, an exception was made. Jack could be put down.

Back at the vet's with the fateful decision, we sat with Jack in our laps. He was happy to see us. He licked our hands and snuggled in. Slowly the anaesthetic took hold, and Jack quietly fell asleep, and died. We cried bitter tears.
We gave Jack the best two months of his short, tragic life.

R.I.P. Jack, Rest In Peace.
____________________________________________________________________________


Bark would like to extend it's deepest sympathy to Mary Aaftink and her
family on the loss of their beautiful girl Molly. Mary has been a longtime
supporter of Bark and a valued friend of this organization. Molly was as lucky
to have them as they were blessed to have her. Farewell little girl until
you all meet again at the Bridge.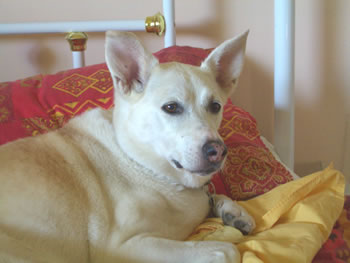 Molly
April 27 1995 – February 23 2009
Molly was just a few days old when she was rescued by Friends of Abandoned Pets along with many other dogs from a farm in Bourget. She was just 9 weeks old when we adopted her and was almost fourteen when she passed away.
Molly was such a special dog. Not only is she mourned by me and my family but also by the many people who got to know her from the stories I told over the years of her many adventures. She was loved by all the children in the neighbourhood and will be missed by them and by all of her many doggie friends and their families.
Molly died suddenly from Hemangiosarcoma after a long, healthy, happy and active life. She will always be in our hearts.

_______________________________________________________________________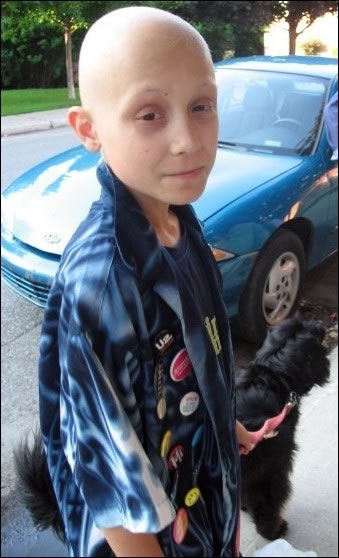 Nicolas
Nicolas Spano, just 12 years old, lived life large.
He was an old spirit in a child's body. He had a devotion to his family, to
animals and to children that was breath taking.
I came to know Nicolas first as the proud owner of Mishka. He loved to tell me of
Mishka's latest antics, sharing in a shy but vibrant voice how Mishka had escaped
AGAIN and how proud he was that Mishka learned not to run away anymore.
Then Nicolas got sick. Nicolas got really sick. At 11 years old he was diagnosed with stage 4 liver cancer. Nicolas became a "volunteer" at my pet food store and Nicolas continued to talk. He talked about chemo, he talked about his fear of ever having to get a feeding tube. He talked about his sisters and his brother and his Mom and Dad. Nicolas wondered with me if they would be okay.
Nicolas talked of his dream of getting a dachshund, but he wanted one that no one else wanted!
Nicolas created joy for himself and he created joy for all who knew and loved him. We will remember Nicolas as the vibrant, colorful, wise and slyly shy little boy that he was. As it was said by Saint-Exupéry, author of The Little Price..."On ne voit bien qu'avec le cœur. L'essentiel est invisible pour les yeux." (One cannot see well except with the heart. The essential is invisible to the eyes).
_____________________________________________________________________________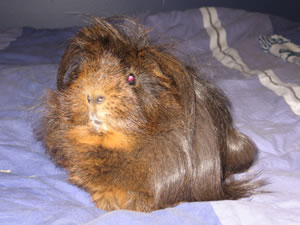 Beaker David Beckham
Bark wishes to express it's deepest sympathy to Audrey Giles a longtime foster and volunteer on the loss of her adorable Guinea Pig
Beaker. Audrey has been an incredible asset to Bark over the years and we hope happy memories will sustain her.
"Beaker was adopted from the Edmonton SPCA in 2005. He patiently put up with being moved across the country and life with many dogs (both permanent residents and fosters) who thought he looked an awful lot like a squirrel. He is sadly missed by his littermate, Moxie, his canine sisters Tundra and Tilly, and - of course - me."
Audrey

______________________________________________
B.A.R.K. wishes to express it's deepest sympathy to
Suzanne Desjardins and her husband Chuck on the loss
of their beautiful dog Cooper. Suzanne and her husband have been longtime supporters and volunteers for Bark. Cooper, only four years old lost his battle with Canine Lymphoma after five months of loving care and medical treatment. He was much loved and will be deeply missed by his family and especially his best friend Axel. We hope happy memories will help them through this very difficult time.
________________________________________________________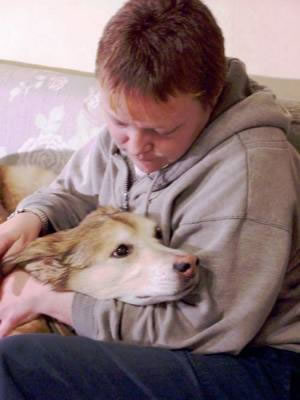 Sue Breen and Jacob
Bark wishes to express it's deepest sympathy
to Sue Breen on the loss of her beautiful Jacob.
Sue has been a longtime supporter, friend, fundraiser,
fosterhome extraordinaire, works well above and beyond
the call of duty for Bark, only takes in the most difficult
dogs we have and then keeps many of them. Jacob was one of those dogs, he blossomed under Sue's care and became all that he could be because of her love and patience. We ache for you Sue and know that Jacob could not have had a better home, nor could he have been better loved. Farewell old friend.
____________________________________________________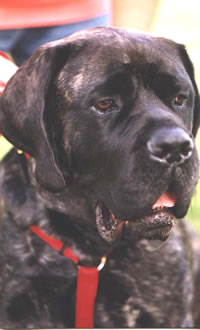 Knighterrant's "Sarabi" Jewel
August 17, 1996 - March 25, 2007
Bark would like to express it's deepest sympathy to John Cotie and Adela Zamojski on the loss of their beautiful girl Sarabi. Adela said
"She was a gentle soul and a terrific companion to us all".
We knew Sarabi and she was a wonderful dog with a super personality. This is the second baby John and Adela have lost in a very short period of time. We hope your new boy Murphy
will help your hearts heal.
Sharon McKeil and Peter Finnie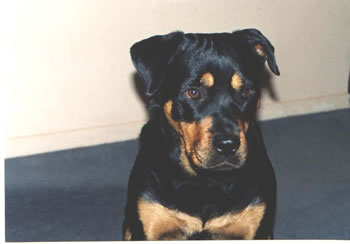 Katee
December 12, 1997 - March 7, 2007
Bark would like to express it's deepest sympathy
to John Cotie and Adela Zamojski on the loss of their
beautiful Rottweiler Katee. John and Adela have
been longtime supporters of Bark and have adopted
two Rottweilers from us. We hope loving memories
will help them through this difficult time.
Katee was a part of a large group rescue where there were multiple dogs, most of them Rottweilers being seriously
abused. She was only 6 months old at the time and severely malnourished. She never grew much after that but her personality was always larger than life. John and Adela gave
her a life she could only have dreamed of and that we think every dog deserves. For this we thank them and we grieve with them. Farewell little girl.
_______________________________________
B.A.R.K. wishes to express it's deepest sympathy
to Dawn Carter and her family on the loss of their
beautiful Doberman Piper. Dawn is a longtime volunteer for
Bark, she has helped with our fundraisers for many years
and is a valued and committed friend to all of us. Dawn and
Piper walked at the Conroy Pit for many, many, years and
are missed by all who knew them. We hope happy memories
will help them through this very difficult time.
Two anonymous donations have been made
to Bark in Piper's name.
Peter Finnie and Sharon McKeil have purchased a
Guide Dog Brick in memory of Piper which will be
added to the walkway next spring.
______________________________________________
My husband and I would like to thank the many, many,wonderful people who sent cards,
donations in her memory, emails, poems, flowers, gifts and food to help us through the
sudden passing of our beautiful Rottweiler Maggie. Once in a lifetime a dog comes along
and steals your soul. Maggie was that dog for us. She touched many lives and we will
be forever grateful that she graced ours We are better people because of her.For those of you
who were treated to her full body wiggleplease try to remember her that way. She
had an intense love of life and would want us to honor her memory
by remembering her as she was, happy to the end.
Sharon McKeil
President
B.A.R.K.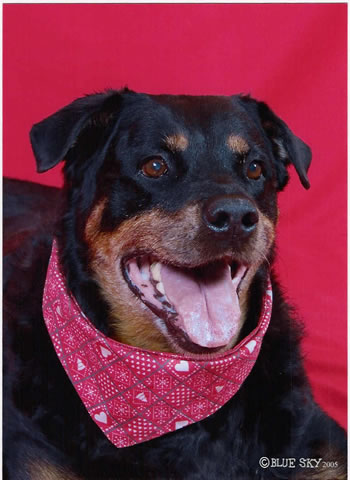 Maggie
September 20, 1995 - November 5, 2005
If tears could build a stairway
And memories a lane
I'd walk right up to heaven
And bring you home again.
Always in my heart
Mom
November 5, 2006
Your Uncle George and Auntie Sue planted a tree in your
memory sweet girl at your favorite walking place, the Conroy Pit.
We will watch it grow year by year remembering how loved you were
by so many of us and how much love you gave back to all who needed it.
Always in my heart
Mom
November 5, 2007
I'm so glad you have Crom-Bomb now to play with
Always in my heart baby girl
Mom
November 5, 2008
_________________________________________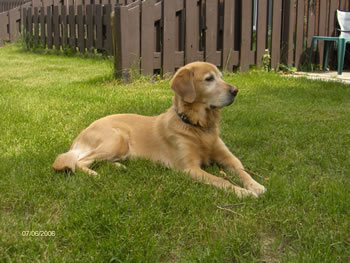 Topher
This is Topher a beautiful Golden Retriever that is about 2 ½ years old. He was rescued on February 9th, 2006. Topher was one of the gentlest dogs we had ever met. He loved to be with people of all ages and greeted those he met with warmth and enthusiasm. He was also very kind to our animals and just ignored the cats. While in the house, he was quite laidback and was content sleeping in a comfortable spot. But when we initiated play time, he enjoyed wrestling with us, playing with his stuffed toys and chasing us around the house. Topher was most happy when he was taking nice walks especially in "off leash" parks. We really loved this wonderful guy and he will always be our memories. We miss you Topher.
Your Foster Mom and Dad
Clement and Stephanie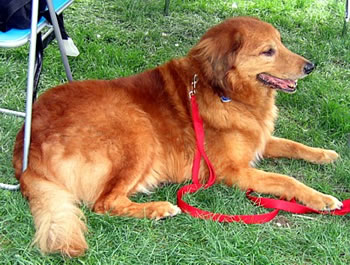 Mozart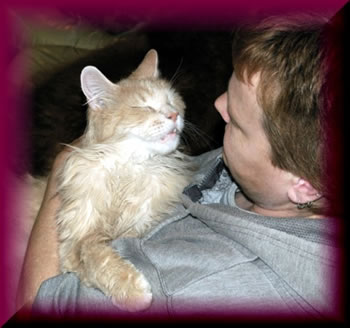 Olly and Mama
B.A.R.K. would like to express its deepest sympathy to
Sue Breen on the loss of her beautiful dog Mozart
and her gorgeous cat Oliver. Sue has been a
longtime friend of Bark and fosters our most difficult dogs. Her compassion and patience with troubled animals is as outstanding as her commitment to Bark. Many, many seriously abused dogs have passed through her house and no matter how long it takes this lady does not give up. She truly epitomizes what we so strongly believe that no dog is unsalvageable.
This remarkable lady is truly a blessing to us and we mourn deeply with her. Mozart and Oliver were her first rescues and they blossomed in this environment as all our dogs do. Both Oliver and Mozart welcomed each and every dog that came into their home and showed them what life is supposed to be all about, loving, sharing and caring.
__________________________________________________
B.A.R.K. would like to express it's deepest sympathy
to Len and Beth on the loss of their
beautiful dog Gem. Len and Beth have
been long time friends and supporters of Bark.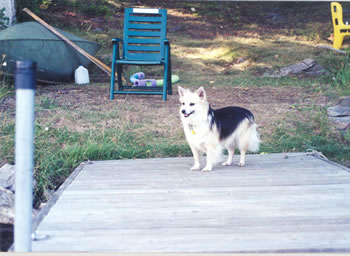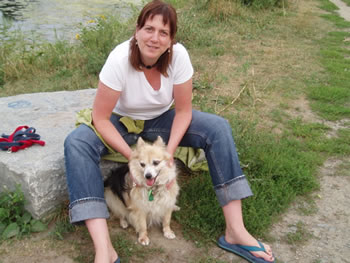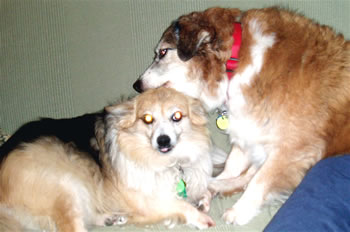 GEM
In memory of Gem
Our beloved dog, Gem, passed away on July 6, 2006, and we would like to share her inspirational story. She was one of the many dogs rescued by Friends of Abandoned Pets
from a farm outside of Kemptville in the spring of 1997.
Gem, needing special attention before adoption could be possible, remained in foster care for over a year and was one of the last of the dogs from this rescue still in need of a permanent home.
She was a traumatized dog – frightened, un-socialized, timid, and wary of human contact. Fortunately, she was fostered during her final six months before adoption by exemplary dog "parents", Carole and Tim Mayo. Carole and Tim have told us that during her first few months with them Gem would bite them whenever they approached her, and was so frightened that she would not allow herself to fall asleep for days at a time.
We adopted Gem in June 1998 as a companion for Willie, another Kemptville dog, whom we had adopted the previous spring. Gem's first several weeks with us were spent on a blanket in a corner in our kitchen. She was a terrified –uncontrollably trembling whenever we approached. Her shaking only intensified when we sat on the floor beside her to pet and talk to her. We tried winning her over with pieces of chicken and beef, but she would turn her head and refused to be tempted by treats that most dogs could not resist.
Slowly Gem came out of her shell. She finally succumbed to temptation when she ate a piece of feta cheese offered to her. The look on her face was one of pure joy. We were thrilled by this major breakthrough!
Several days later, while hanging out in the living room with Willie and our cats, Frida and Diego, Gem worked up the courage to venture from her hideout and peeked at us from the hallway. Willie immediately chased her back to the kitchen. However, Gem was determined to do some exploring and half an hour later she made it all the way to the living room and jumped on the couch beside us. We didn't budge for fear of frightening her. This visit lasted about 5 minutes before she returned to the safety of the kitchen.
This would have been a minor feat for most dogs, but for Gem this was a heroic act. We were ecstatic. Gem had crossed a line with us, and we had finally begun to win her trust.
Over the next months and years, Gem's confidence grew, slowly but steadily. When she first came into our lives, she never vocalized, and we wondered if she actually knew how to bark. And then early one morning she let out her distinctive "woo, woo, woo". From thereon, she barked often and enthusiastically to demonstrate her excitement before going on walks, or when we came home from work, and reserved her "woo, woo, woos" as her morning greeting.
Gradually, Gem discovered the joys of a roll in a patch of stinky grass, going for swims, chasing squirrels, stealing food and treats from Willie, and chewing our socks and shoe laces. She loved going for car rides, and although she trembled like crazy, she was always an eager and willing participant. She eventually became a bit of a doggy connoisseur – fussy with what treats and meals we would present her with.
For the first several years with us, Gem would hide under the bed whenever we had company. Eventually, when she heard a knock at the door, she would come out to say "hello" and then retreat to her hiding place. Later in her life, she worked up enough nerve to "hang out" with friends and family members - often sitting on the couch to cuddle with them when they came to visit. Gem won the hearts of everyone she met.
This past May, Gem was diagnosed with kidney disease. In spite of her illness, she remained her spunky happy self until the last week of June when she had to be hospitalized. After an all too brief period of stability her health deteriorated rapidly.
Anyone who believes that you can't teach an "old dog new tricks" never met our Gem!
During the 8 years we shared, she frequently amazed us by overcoming her fears and learning behaviours that come easily to most dogs. She came to us a terrified and frightened creature but grew into an affectionate and loving companion. In the last years of her life, she even became quite assertive and bossy, and would often poke us with her nose in order to get a head scratch or belly rub.
Thank you B.A.R.K. for giving this special little dog a second chance. She had such a sweet and gentle nature, and brought such joy and happiness to everyone who knew her.
Len Bush and Beth Greenhorn
_______________________________________________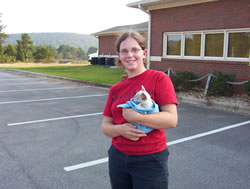 B.A.R.K. would like to thank Alaura Singleton
for rescuing the beautiful tiny kitten from the
shelter we went to in Louisiana. Alaura nursed
cuddled and loved this tiny precious bundle
the whole trip . It died the day after we arrived
back home. Our thoughts and prayers are with you
Alaura, we all ache for this little life we couldn't save.
______________________________________________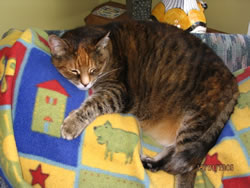 Pichou
B.A.R.K. would like to express it's deepest sympathy
to Martha and Rachelle on the loss of their
beautiful cat Pichou. Both Martha and Rachelle have
been long time friends and volunteers with Bark.
_______________________________________________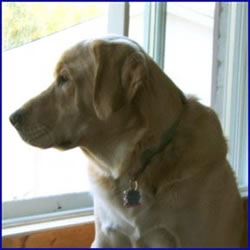 Summit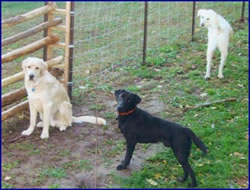 Summit with Katrina foster
dog Gerald and brother Titus.
B.A.R.K. would like to express it's deepest sympathy
to Al, Jennifer and Matthew Greer on the sudden
and tragic loss of their beautiful Retriever Summit.
Summit was adopted from B.A.R.K. last year as
a tiny puppy. We rescued Him from a puppy mill
in Quebec and he died of a heart attack with no
warning last week. Our hearts go out to this
wonderful family.
_______________________________________________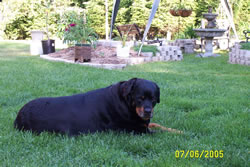 Majorhauson's Nenn Mich Liebchen
(Call Me Darling)
April 29, 1998 - to July 24, 2005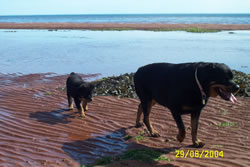 Libby with new baby brother Bo, 9 weeks old,
on the beach in PEI
Bark wishes to express it's deepest sympathy
to Pat, Sandy and Bo Crosby on the loss of their
beloved Rottweiler Libby. She was a loving, gentle
soul, a goodwill ambassador and a credit
to her breed. May happy memories sustain you
during this difficult time.
A donation has been made to Rottweiler Rescue
in Libby's memory.
_____________________________________________
B.A.R.K. wishes to express it's deepest sympathy to
Heather Rose on the loss of her beautiful dog Jake.
We hope happy memories will sustain you in this difficult time.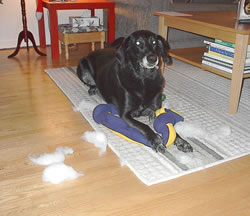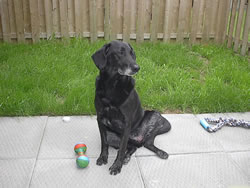 Jake
June 1996-June 2005
Hello friends of Jake;
I am writing with sad news to let you know of our dear friend's recent illness and subsequent passing. Jake has been very sick for a month now. After running a battery of tests, it was determined that his entire liver was severely diseased, not just a small part of it. His liver just failed. In his last days he was quite skinny, tired and did not eat despite being on anti-nausea medication. He spent almost a week in hospital on I.V with no improvements, and then came home for two last nights in his house full of all his favorite smells and places to lie down.
I would like to let you all know that Jake was not in any pain during his illness. The vet likened it to a human being having the worst flu of their life - and then being told they would have to live like that for the rest of their life. We all know that it would not be fair to subject Jake to that. He was in great spirits, considering everything, which is true Jakie style. Every now and then if you said a certain word or phrase that tail would start beating on the carpet!
If you have ever been lucky enough to witness Jake doing his famous "bum dance" then you have seen Jake at his very best moment! Please remember him that way!
Thank you to everyone who has called to check on Jake, visited Jake and helped out during this difficult time. We appreciate it more than you will ever know. I would particularly like to thank my friend Lori Froude who came to my rescue last Sunday when Jake was at his sickest. She drove us to the emergency room when I was unable to do so myself, and made sure we were OK.
I held his little paw as he died. It was very humane, quiet and painless for him, but difficult for me. He looked very peaceful. More peaceful than I have seen him in weeks.
Jake Rose - known by many as Jakers, a very special dog.
June 1996-June 2005
"Those Ears!"
Heather


__________________________________________
B.A.R.K. wishes to express it's deepest sympathies to Margaret Sanderson on the loss of her beloved dog "Baxter", he was 14 years old and her faithful companion for many, many years.
A donation has been made to B.A.R.K. in Baxter's memory by John Cotie and Adela Zamojski..
________________________________________________
Zeek was one of seven puppies we took from another rescue outside Montreal. We believe he had a virus of some unknown origin. We went to extraordinary lengths to save him including exploratory surgery but he got weaker and weaker and finally died. Poor sweet baby we will see you at the Rainbow Bridge. We wish to thank Marie, Barb and Isaac for caring for this little boy and to express our sympathy to them as well.
Sharon McKeil
President
B.A.R.K.
In the fosters own words
Zeek came into our lives as a foster puppy. We didn't know him for very long, only five days, but he was a gentle, soft presence. He was the one who could escape from any puppy barricade, who enjoyed being held while he slept, who always ate before the others and who brought us a great amount of joy and laughter at his antics. We don't know why he became ill and though we only knew him for five days, we will remember him much longer.
Barb Flint, Isaac and Marie Pierce

_______________________________________________
B.A.R.K. wishes to express it's deepest sympathy to Kim Robertson on the loss of her father "Peanut" Robertson, age 58 on Friday February 18th, 2005 in Lennoxville Quebec. Kim is on the Board of Directors for B.A.R.K. and devotes much of her time to fundraising for our organization. We know how difficult this is for Kim and we all hope good memories and the knowledge that we care will sustain her at this time.
A donation in her father's memory has been made to B.A.R.K. by Roly and Judy Roy.
A donation in her father's memory has been made to Golden Retriever Rescue Quebec by Peter Finnie and Sharon McKeil.
___________________________________________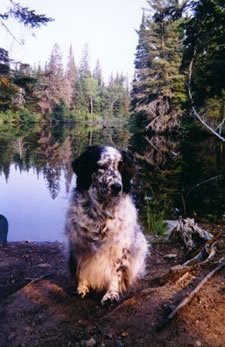 Sookie
B.A.R.K. wishes to express it's deepest sympathy to Sue Adams a longtime supporter of B.A.R.K. on the loss of her beloved treasure Sookie. Sookie died February 2, 2005 at age 16. Sue has worked behind the scenes at B.A.R.K. for many years quietly selling chocolate bars, designing and copying flyers for all our special events and spreading the word that B.A.R.K. works. We wish to thank Sue and to let her know we are thinking about her at this difficult time.
___________________________________________
B.A.R.K. wishes to express it's deepest sympathy to Mike, Judy and Maggie Sauve on the loss of their beloved Shelties, Angus and Tessa. We hope that happy memories will sustain you through this very difficult time. A donation has been made in memory of these two beautiful treasures by Dian McTaggart on behalf of the Ottawa Team of Therapeutic Paws. Till you meet again and sing at the Bridge.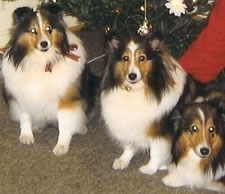 Maggie, Angus and Tessa
The Ottawa team of Therapeutic Paws of Canada would like to express its deepest sympathy to Judy, Mike and Maggie on their loss of Tessa and Angus.
They were loving and great companions of Judy and Mike. They brought many smiles to the seniors they visited as part of the Therapeutic Paws program. Tessa and Angus will be deeply missed. May the singing continue on the other side of the Rainbow Bridge.
____________________________________________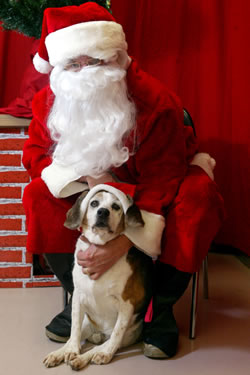 Bagel
Photos with Santa December 5, 2004
B.A.R.K. would like to express it's deepest sympathy To Roly and Judy Roy on the loss of their beloved Beagle, "Bagel Belle". Bagel came into their lives very late at 12 years of age and had the best years of her life until she died shortly after Christmas at 14 and 1/2 years of age.
Bagel was a real presence in the Roy household, making everyone march to her tune - a real testament to how we should all treat our elderly dogs, with dignity, respect and to give them whatever they want, they have earned it. She will be sadly missed by her sisters Kaitlyn and Lady.
Roly and Judy have been very active members of B.A.R.K. for many years, Judy serving on our Board of Directors and Roly doing much of our IT work.
We will all miss this feisty old girl.
Sharon McKeil
President B.A.R.K.

________________________________________________
B.A.R.K. would like to express it's deepest sympathy to Nancy Truss and her family on the loss of their beautiful Geemo. Geemo was adopted from B.A.R.K. and had a great and gentle personality. He brought joy and love to all who knew him.
A donation has been made to B.A.R.K. in his memory by Dian Mctaggart and the TPOC Team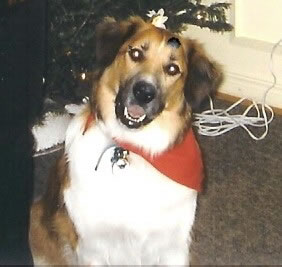 Geemo
The Ottawa Team of Therapeutic Paws of Canada would like to express their deepest sympathy to Nancy and her family on the loss of their beloved companion Geemo.
Geemo was a member of TPOC and regularly visited Bearbrook Centre where he brought smiles and happiness to the residents and staff. Geemo will be sadly missed by his family and TPOC.
May your fond memories help you through this difficult time.
"Geemo went from being abandoned to being adored. Not just by his family but by an entire community. Whether it was the kids in the school yard who loved to play chase and be towed on the toboggan, the other dogs and their owners in the woods or the Senior's at the two facilities we visited through TPOC, everyone who met him loved his gentle nature and happy
"smile". Thank you to B.A.R.K. for rescuing this gentle soul and bringing him into our lives, even if it was only for a few short years. Thank you to TPOC for giving Geemo a wonderful outlet for all the love he had to give. We miss you terribly Geemo. Love Nancy, David, Peter, Michael and Gandalf."

__________________________________________________
B.A.R.K. wishes to express it's deepest sympathy to the Breen family on the loss of Matt Breen. A donation has been made to B.A.R.K. in his memory by his niece Sue Breen. Sue has been a valuable member of the B.A.R.K. team since it's inception. Her love, compassion and generosity towards all who meet her is greatly appreciated by all of us and reflected in the work she does with our most difficult animals.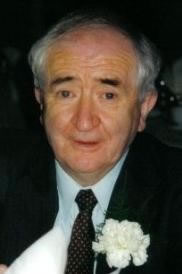 Matt Breen
July 9th 1934 to December 4 2004.
My Uncle Matt spent his life time living the true
spirit of giving. We all miss him so much, his family
in England, Ireland, the US and the Netherlands have
all been touched deeply by this gracious man who never
a day thought of himself before he gave to others.
This donation to B.A.R.K. is made in the same spirit.
Sue Breen
______________________________________________

B.A.R.K. would like to express it's deepest sympathy to the Borland Family on the loss of their beloved
"Duncan MacDuff"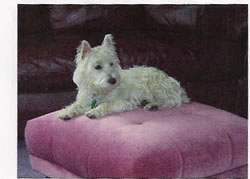 Duncan MacDuff
February 20, 2003 - November 1, 2004
Our thanks to all who sent and called messages of
condolences. We appreciated your kind words to help us through this tragedy. There are no words which will
adequately express our shock and sorrow of seeing
our beloved pet slip away from us so quickly. He had
so much joy and pleasure to give to everyone that it is so difficult to understand why his life of less than two years had to be so short. All he wanted was to be loved and give love.
The staff at the Champlain Hospital was efficient, kind and understanding. The vet, Dr. Norman, treated him quickly and was surprised by the sudden turn of events.
Because the breed, though white loves to roll and dig in dirt; they are forever rooting into garbage and eating disgusting things. We were forever after him about this and little did we realize the harmful bacteria that exist outdoors. The toxins are common and can do great damage to organs. It was just bad luck that the lungs were affected sp quickly, filled with fluid and prevented resuscitation.
our house is quiet and void ; again it was just two years ago that Basil left us. Now another dear pal is gone but fond memories of him will linger on........
-Playing with and chasing a plastic bottle
-Supervising the backyard
-Dashing through the flower beds to scatter the squirrels
-Sitting for his treats at every opportunity
-Sharing an apple at lunchtime
-Sitting on our knees to warm his paws or to get a better look out the window
-Rinsing the dishes prior to the dishwasher wash
-Settling into his cage for a treat at bedtime at 9:00
-Digging and running through the vegetable garden
-Swimming the muddy flood waters of July 15, 2004
-Romping with K.C. for a patch of sun on the carpet or to relieve boredom
-Crashing through the newspaper to get attention for his walk
-Checking the grocery bags to see what was for him
-Chewing his bone on the carpet
-Grabbing my hand to announce it is walktime
-Rolling on his back for a tummy tickle
-Sneaking a nap on the bed in the afternoon
-Watching the door after 5 o'clock for the chance arrival of Lysa
The ringing of the "studio bell" is quiet now and we are left with only memories of a dear, lovable and gentle pet. Our "White Rocket".
Deneyse and Keith Borland

__________________________________________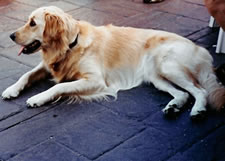 B.A.R.K. wishes to express it deepest sympathy to Claudette, Pierre, Marc and Eric on the sudden loss of their Golden Retriever Jessie. Jessie was only 8 yrs old when she passed away suddenly due to a chronic illness. Jessie was a very gentle soul and a darling girl with a sweet nature. She will be greatly missed by her best friend Chelsea, whom she has known since she was a puppy.
Dian, Chelsea and Sabrina have made a donation to B.A.R.K. in loving memory of Jessie and wish to express their heart felt sympathy to the Legare family. May the happy memories sustain you during this difficult time.

_______________________________________________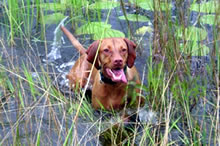 Onpoint's Cool as Ice TD RPT
June 23, 2001 - August 21, 2004
B.A.R.K. wishes to express it's deepest sympathy to Alison Graham and her husband Barry on the loss of their beloved Viszla "Ice". She had amazing drive and a phenomenal temperament. She gave new meaning to the phrase "working dog" and touched all who knew her. Ice was also a true credit to her breed. She will be sadly missed by Bogart, Mutz, Viper, Lester and PeeWee.
Ice was a once in a lifetime dog and Alison's soulmate. Just when she was ready to do all she had trained for fate has taken her away and left a hole in all of our lives. She will be missed and never forgotten by her family and friends.
Paola Hoger

___________________________________________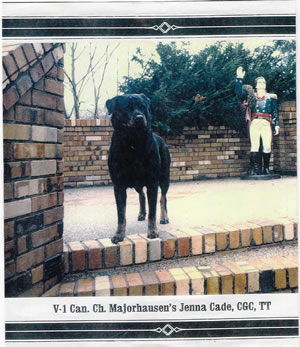 V-1 (1996 ARV Canadian Siegerin)
AKC major-pointed Can.
Ch. Majorhausen's Jenna Cade, CGC, TT
April 6, 1994 - July 5, 2004
B.A.R.K. wishes to express it's deepest sympathy to Pat Major and Eric on the loss of their beloved Rottweiler Jenna.
Jenna lost her valiant battle with bone cancer, July 5, 2004. She was a good will ambassador for her breed, always outgoing and loving with everyone she met. The families she touched and the hearts she filled are a testament to her wonderful life.
She will be sadly missed by her two sisters, Libby and Jessy and her many beautiful children.
Farewell Proud Girl
until we meet again at the Bridge.

___________________________________________________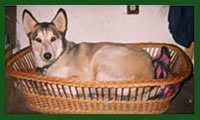 Nanook
B.A.R.K. wishes to express it's deepest sympathy to Pat Grimshaw and family on the loss of their beloved Nanook. May happy memories sustain you.
___________________________________________
B.A.R.K. wishes to express its deepest sympathy to Dr. Elizabeth (Liz) Stevenson on the loss of her beloved Shepherd "Rebel". A donation was made to B.A.R.K. in "Rebel's" memory by John Cotie and Adela Zamojski.
_____________________________________________________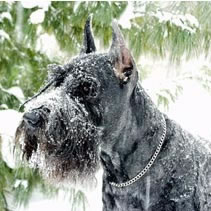 KYRA
(AM CH Homestead's Shadow of the Son)
B.AR.K. wishes to extend its deepest sympathy to Solange Létourneau on the loss of her beloved dog Kyra. She was only eight years old and died suddenly from cancer. This beautiful Giant Schnauzer graced the show ring and earned her American Championship, then retired to the good life with her owner, Solange. She will be sadly missed by her friends and family.
Kim Robertson and Mike Donnachie have made a generous donation to B.A.R.K. in her memory and wish to express their deepest sympathy to Solange as well. Anyone who has loved a pet and lost them knows the tremendous heartache this leaves and we hope happy memories will sustain you in this difficult time.


_____________________________________________________
I would like to thank all the wonderful people who sent cards, emails and very generous donations to B.A.R.K. in memory of my Father who passed away on October 15, 2003. Your kind words and thoughtfullness made a very difficult time bearable.
Sharon McKeil
President B.A.R.K.
___________________________________________________
B.A.R.K. wishes to express its deepest sympathy to the Hunter family on the loss of their wonderful Rottweiler Moose. Moose(formerly known to many of us as Rogue) was rescued many years ago from an extremely abusive situation. He had multiple issues until he met the Hunters and their wonderful female rottie Sheba. From that point forward he was a changed dog. We know the power of love for an abused dog and he thrived in this environment. Farewell old friend.
___________________________________________________
B.A.R.K. wishes to express it's deepest sympathy to the family and friends of Becky Kirkwood. Becky was killed tragically in a car accident Saturday morning January 25, 2003. We would also like to thank Becky's family for the hundreds of dollars worth of leashes, collars, toys, and rawhides they purchased in Becky's name for our foster dogs. Many, many abused, abandoned dogs will have a new beginning as a result of this generous donation. We thank you on their behalf.
___________________________________________________
B.A.R.K. wishes to express its deepest sympathy to Nikki Kristensen on the loss of her beloved snake Equinox. A donation has been made to B.A.R.K. in his name, by John and Adela Cotie.
_______________________________________________
B.A.R.K. wishes to express its deepest sympathy to Richard and Susan Roscoe on the loss of their "Beautiful Big Rottie" Thor . A donation was made to B.A.R.K. in Thor's memory by John Cotie and Adela Zamojski.
B.A.R.K. wishes to express its deepest sympathy to Peter and Jean Poniatowski on the loss of their beloved dog Rex. A donation was made to B.A.R.K. in Rex's memory by Adela Zamojski and John Cotie.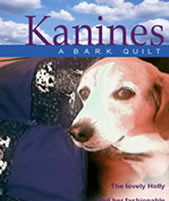 Holly
The people of B.A.R.K. wish to express their deepest sympathy to Roly and Judy Roy on the loss of their beloved beagle Holly, who died last month at 14 years of age. Holly is a poster dog for our puppy quilts. Roly and Judy Roy are longtime supporters of B.A.R.K. and Judy's beautiful toys crafted in memory of Holly made us a lot of money at our photos with Santa weekend. Holly was a special dog and we will all miss her.
B.A.R.K. wishes to express its deepest sympathy to John Horvath on the loss of his dog "Abe". A donation was made to B.A.R.K. in Abes memory by John Cotie and Adela Zamojski.
We wish to express our deepest sympathy to Isobel, Len and Lynn Courchene on the loss of their dog "Suzie". A donation was made to B.A.R.K. in Suzies memory by John Cotie and Adela Zamojski.
The people at B.A.R.K. wish to express their deepest sympathy to Beverly Bedard on the loss of her mother Lillian Davison. We also wish to thank Bev for asking that donations be made to B.A.R.K. in lieu of flowers. Bev has been a member and long time supporter of our organization. She adopted her wonderful Lab mix Champ from us.
To date we have received over $300 in Memory of Lillian Davison.
__________________________________________________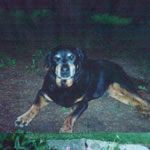 CASSIE - March 11, 1989 - September 1, 2002 (V - 1/2/3 Am/Can, Ch. Misty Lakes Diamond Cascade, CGC, TT)
B.A.R.K. wishes to express their deepest sympathy to Pat Major on the loss of her treasure Cassie. Loved by all who met her and missed by her family and friends, farewell sweet girl.